Shopping Guide: Old Town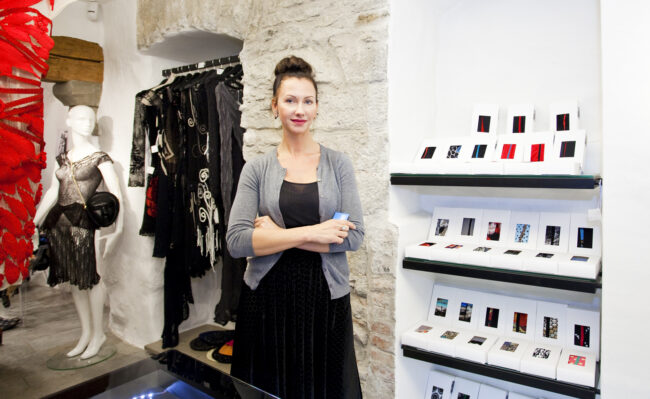 Estonian designer Kristina Viirpalu in her Old Town boutique.
Tallinn lacks a central shopping street like many other European capitals. If you haven't explored Tallinn's Old Town yet, there are many boutiques and high end shops that await the fashionista around every corner.
The area between Pärnu mnt and Harju is where you will find high-end brands like Burberry, Emporio Armani, Jacadi, Marina Rinaldi, and others. If you are looking for something uniquely Estonian, Estonian designed, or simply shops you can't find any- where else, we've compiled a list for you, to help you find just what you are looking for, or at least some pointers for a self-guided shopping tour of the Old Town.
The Baltic Guide recommends:
1 Beaumonde – High end designer jewellery from top European brands.
Väike-Karja 1, Tallinn Old Town.
2 D'boiss – High quality men's Italian footwear.
Suur-Karja 20, Tallinn Old Town.
3 Ivo Nikkolo – Estonian designed women's business dress wear.
Suur-Karja 14, Tallinn Old Town.
4 Mario Melani Italian Fashion Design – Italian fashion for women.
Rataskaevu 4, Tallinn Old Town.
5 VivianVau – Colourful leather shoes and bags imported mainly from Italy and Spain.
Rataskaevu 2, Tallinn Old Town.
6 Bastion – Elegant and quality Estonian designed clothing for women
7 Bonbon Lingerie – Estonian designer undergarments. Pärnu mnt 21, Tallinn Old Town.8 Fankadelik – Unique designs by young Estonian designers.
Vana-Viru 6, Tallinn Old Town.
9 KV Couture Kristina Viirpalu – Beautiful and unique Estonian designs for women.
Suur-Karja 2, Tallinn Old Town.
10 Linette – Estonian-made lingerie.
Müürivahe 17, Tallinn Old Town.
11 Nu Nordik – Clothes and jewellery from young Estonian designers.
Vabaduse väljak 8, Tallinn Old Town.
TEXT KRISTINA LUPP, PHOTOS ANDREI CHERTKOV
To learn more about this and similar topics