Seaside dining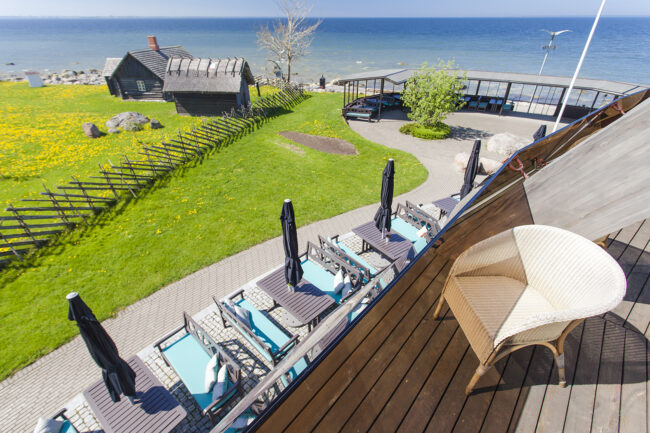 Paat's seaside terrace.
The Viimsi peninsula lets you escape the city without travelling too far.
Viimsi is an easy day trip from Tallinn, where you can visit the Estonian War Museum, the Museum of Coastal Folk, and the Viimsi Open Air Museum. It's also the worth the short bus trip to Viimsi to try one the fantastic restaurants and enjoy a meal seaside.
■ Rannarestoran
Paat Rohuneeme tee 53, Viimsi.
Paat means boat in Estonian, and considering the restaurant is built under the hull of an overturned boat, the name fits. The menu has a good selection of fish, meat and vegetarian options. Local ingredients are used when possible too. If the weather is nice, you can dine on the their wonderful seaside terrace that overlooks Tallinn and the Old Town on the opposite side.■
Café Lavendel
Sõpruse tee 9, Haabneeme, Viimsi.
Café Lavendel offers a truly international menu, with everything from sushi, to pasta, to burgers. Be sure to try their house made desserts too. While not located right on the coast, Café Lavendel does have a beautiful summer terrace where you can enjoy your meal al fresco. Live music on Saturday nights.
■ NOA
Ranna tee 3, Tallinn.
Brought to you by the same owners as OKO restaurant in Kaberneeme, NOA opened this spring and has turned into a favourite among locals. Rain or shine, NOA is a lovely place to enjoy a meal by the sea. The interior is clean and simple with a bit of Scandinavian flare. The menu boasts appetisers, fish, and meat dishes in three price categories. The Surf & Turf was a light and fresh choice for lunch, and their steaks cooked on a Josper grill can be ordered with a selection of sides, the roasted potatoes and béarnaise sauce being my favourites.
■ Roots
Rohuneeme tee 57 b, Pringi Parish, Viimsi.
Roots has the nice casual vibe of a seaside gastropub. The outdoor terrace is a relaxing place to sit with friends. The menu boasts locally inspired dishes with a hint of international flare. The beef carpaccio with rosemary, horseradish foam, and cowberry sauce was an interesting twist on a classic dish. Portions here are very generous, so keep this in mind if you want to leave room for dessert.
■ Villa Mary
Restoran Rohuneeme tee 103, Viimsi.
Villa Mary is located near the end of the Viimsi peninsula and offers fine dining and a gorgeous seaside view. The modern menu uses local and Scandinavian ingredients, creating colourful and fresh dishes. It's a wonderful place to come for a romantic evening out.
How to get there
Viimsi is easily accessible by car, bike, or public transport. Bus 1A leaves the terminal under Viru Keskus every 15-20 minutes and arrives at the Viimsi Keskus stop. Bus 114 leaves hourly from the Hobujaama stop on Narva mnt and connects you to the tip of the peninsula at Rohuneeme. The buses within Viimsi (V1-V7) will take you to the villages. Visit www.peatus.ee for easy route planning.
TEXT KRISTINA LUPP, PHOTOS ANDREI CHERTKOV, KRISTINA LUPP
To learn more about this and similar topics