Scholarships and Grants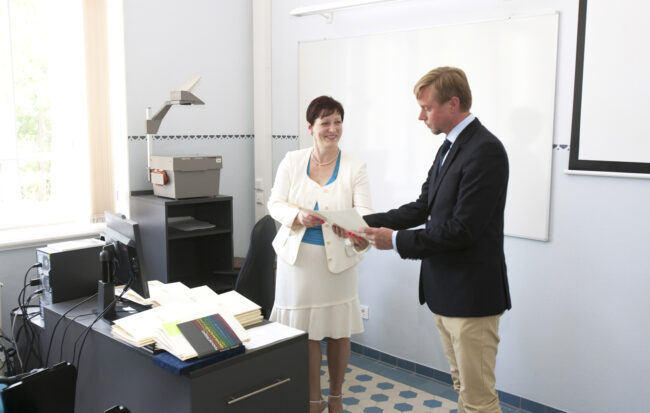 Scholarships and Grants
What is the aim of the Foundation?
Ever since its founding in 1997, the foundation has supported students, teachers and researchers through scholarships and grants.
How is the foundation managed?
The foundation is managed by a 6-8 person board, with one representative appointed by the university board, one by the university senate and the rest are elected by supporters of the foundation. Everyday, work is carried out by me, as managing director. Danske Kapital distributes the funds.
What kind of support do you provide?
Most recipients receive support within their field of study for travel expenses, tuition, and research fees within as well as outside of Estonia.
How do I know which scholarship suits my needs?
The scholarships are announced in the spring and in the fall through university channels, the dean's offices and specific student lists. Current information is available on our website.
Please give some examples of the most successful scholarships?
Our most important scholarship, the Ernst Jaakson Scholarship, has provided academic research opportunities for PhD students at various universities and clinics abroad. Many of the scholars are at present recognised specialists and professors in Tartu as well as abroad and today's students are in turn scholars of these previous candidates.
Others scholarships have provided financial assistance for students to carry out studies successfully.
Who are the donors?
Estonians living abroad played an important role in the first years; now, many local Estonians such as university teachers, researchers and businessmen have supported us.
Can anyone support the Foundation?
Most of our funds are open and anyone can support them provided that support fits with the ideas of the donor. At present we are in the process of setting up funds within various other fields in order to facilitate donations. It is also possible to create your own scholarship within any field. Donors do not have any obligations and all donations are taxexempt.
How has the work of the foundation changed over the years?
The number of scholarships and the amounts available has increased steadily. In recent years we have paid 100-120 thousand euros annually. The economic downturn has made it more difficult to find new donors and the low interest rates have diminished the yield of the funds.
This in turn has forced us to unite some of the smaller funds. The number of scholarships, financed directly by donors but administered by us, has increased however.
We are most grateful to our permanent donors who, in spite of the economic downturn, have continued to support us. We are also glad to note that the Foundation is well known among students and researchers and that the number of applicants is on the rise.
Ruth Kotsar Managing Director Tartu University Foundation/ Tartu Ülikooli Sihtasutus www.ut.ee/sihtasutus
TEXT: TOOMAS KÄBIN, PHOTOS: ANDRES TENNUS
To learn more about this and similar topics