Restaurant News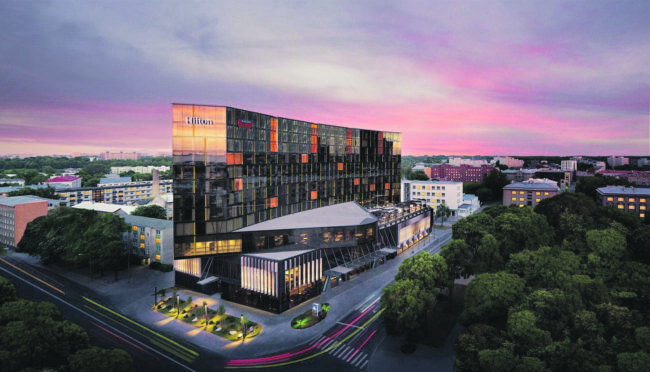 The first Hilton in the Baltics opened in June. It is connected with the Olympic Casino. The hotel rooms overlook a green park towards Tallinn's Old Town. The view can also be admired from the second floor restaurant The Able Butler or its terrace. The restaurant offers Black Angus beef. On offer is a huge 800g portion, as well as two different burgers. The kitchen is run by the Italian chef, Salvatore Coco.
On Haabneeme beach in Viimsi, check out Puri Rannaresto. Enjoy a view of the sea from the terrace.
Tallinn's courtyards are full of cosy terrraces. ÕU is an outdoor restaurant located in the Brookus courtyard/square that can be accessed from Olevimägi street. Here you can play table tennis and enjoy some fast food, like burgers from the food truck. There are also many concerts and events taking place throughout the summer.
The former Kaarmanni Store has now found new life as Olde Hansa Hortus, named after a medieval wealthy merchant's courtyard. It offers refuge from the busy Viru Street with its beautiful, calming interior.
OZO is a modern Japanese restaurant that opened just before Midsummer. Amalfi, located beside it, has added an ice cream bar. The latter offers pizza, as well as interesting seafood dishes. 
Location
The Able Butler, Fr. R. Kreutzwaldi 23, Tallinn. Hilton Tallinn Park
http://www3.hilton.com/en/hotels/estonia/hilton-tallinn-park-TLLHIHI/dining/the-able-butcher.html

Puri Rannaresto, Kesk tee 4, Haabneeme, Viimsi
www.facebook.com/Purirannaresto/

Olde Hansa Hortus, Vanaturu kael 8, Tallinn Old Town
www.oldehansa.ee/et/uudised/olde-hansa-hortus-keskaegne-siseou/

OZO, Vana-Viru 13, Tallinn Old Town
ozo.ee

Amalfi, Vana-Viru 13, Tallinn Old Town
feudi.ee

Click on the address to see the location.
Photo: Hilton
To learn more about this and similar topics