Places to Stay, Places to Crash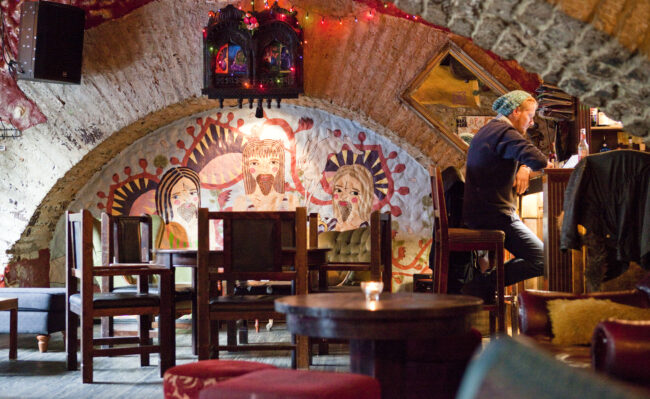 Nightlife is mostly about going to bars and clubs and having a great time. However, I'm aware that nightlife needs to be practical at times. That's why I've decided to look at ways you can have a good time, close to your hostel.
For the Drinkers: 16 euro Hostel & Protest
I begin with the hostel that I would is the best in Tallinn at the moment, for the simple reason that, when I was testing this out last weekend, my friend, who was visiting Tallinn, was able to get a very late bed here, but not anywhere else.
16 euro Hostel is based in the Rotermann quarter, which can be an area that looks a little bit scary at times. However, on the developed side of Rotermann the outlook is very different, with the place slowly taking on the kind of vibe that is reminiscent of, perhaps, Liverpool's Albert Docks.
When my friend stepped into the hostel at 4am, considered an unreasonable hour by many Tallinn hotels and hostels, he was greeted by a nice receptionist there was a late room available. Add to that the fact that it was a private room that he got at such late notice (they all are), and this was an excellent experience.
Protest is a no-frills bar that has been a fixture of Rotermann for years. With its wood panelling and, often, large crowds, this is a great place to go, to have a few beers. It's not a place to see and be seen, but it's all the better for it. There is a good beer selection behind the bar, and the seating, although hard to come by on a Saturday night, is arranged in a way that makes it easy to sit and chat if you're tired of standing. Far from just a night-starter, I'd even argue that this bar can be the main fixture of your night out; it's mere metres from the hostel and it's incredibly cheap.
For the Hipsters: Fat Margaret's Hostel & Tops
If you want to experience what many locals enjoy, you would be advised to stay outside of the usual hostel loops. Fat Margaret's Hostel is actually located in the shadow of the redeveloped factories of Kalasadama, where the outlook is rapidly changing. Once a dark, unbecoming area, this is transforming into a place where business is encouraged, and where lighting is very good.
The hostel offers a free sauna and pool session to residents as standard (though this comes with a quite strict time limit), along with a variety of male, female or mixed dorms that are all at between €9 and €10. Reviews suggest Fat Margaret's is a place which is for the younger traveller, given that it is on two different floors, and is located outside (though not too far away from) the Old Town.
If you walk away from Fat Margaret's down Soo street in the direction of the Rimi supermarket, and then continue down that same road, you find Tops, a bar inside an old wooden shop building in historic Kalamaja, the home of Tallinn's cool hipster community.
Inside this bar, the atmosphere is really lively, the music is excellent thanks to, at weekends, a selection of great guest DJs, and bar staff will happily help you choose a craft beer to suit your tastes.
What makes Tops great, though, is the people. You find that, in spite of its hipster origins, every kind of person frequents this little beer with a big heart. There's always someone new to talk to.
Location
Rotermanni 16 euro Hostel
Roseni 9, Tallinn
http://16eur.ee/et/rotermanni/

Protest
Mere pst 6a, Tallinn 
http://www.protest.ee/

Fat Margaret's Hostel
Põhja pst 27, Tallinn
http://16eur.ee/et/fat-margarets/

Tops
Soo 15, Tallinn
http://www.kohviktops.ee/kohviktops/kohviktops.html

Click on the address to see the location.
TEXT STUART GARLIC
Stuart Garlick is a journalist and English language teacher based in Tallinn. Since 2012, his blog, Charm Offensive, has covered food, music and fashion in Estonia.
To learn more about this and similar topics