Permanent Beauty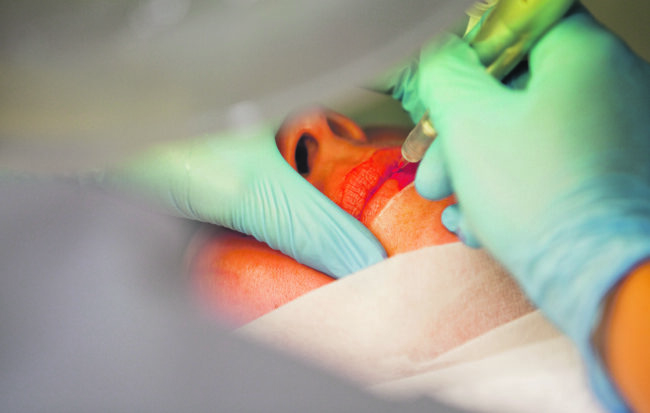 The Baltic Guide visited Privileg Day Spa to find out more about permanent makeup.
The thought of permanent makeup can be terrifying, especially considering some horror stories we've heard. But things have changed over the last ten years and technology continues to improve. Permanent makeup is more common than you think and here's why.
First of all, if you are considering permanent makeup, do your research. "Find out about the spa you are considering having the work done, find out about the person that will be applying the permanent makeup, how much experience they have and examples of work they have done in the past, and find out what machines and products they use", explains Blanka Jaansalu, owner of Privileg Day Spa. "If colours come from China, this is a sign to stay away. At Privileg, our colours come from Italy and we use an Amiea machine from Germany". Blanka has three and a half years experience, with plenty of international training under her belt. "We use only new needles and everything else is thoroughly sterilised".
Who can benefit from permanent makeup?
Permanent makeup can be for anyone from ages 18 and up. There really is no age limit for beauty. It really depends on the effect you are looking for. Eyebrows, for example can be contoured for older people who have trouble seeing to pluck their own eyebrows, or for younger people wanting to darken theirs. Permanent makeup is particularly good for travelling or active people. Contouring around the eyes means that you no longer have to apply makeup, meaning you don't have worry about eye makeup running while swimming. It's even possible to get a smokey look.
Does it hurt?
The application of permanent makeup is relatively painless. On the lips, for example, anaesthetic cream is applied after the contour has been drawn with a pencil. You wait 20 minutes while for the anaesthesia to take effect. The permanent makeup is applied three times for full effect. It's also important to note that if you're prone to cold sores then they will most likely appear after the procedure. Have your doctor write you a script for aciklovir, an antiviral that treat herpes virus infections. This will ensure that the cold sores don't affect the permanent makeup.
What about aftercare?
After a procedure, the area will be swollen, but this should go down anywhere from one to three days. Apply Pepanthen Plus to the area twice a day. The area will scab over and it's important not to pick at it, as otherwise the scab will pull the colour with it. Take care not to expose the area to strong sunlight. After the first application, wait four weeks and then you will have to go for a correction.
How long does it last?
Everyone is different and the amount of time that permanent makeup will last depends entirely on the individual. Things like skin type and lifestyle affect permanent makeup, but it can last anywhere from one to five years.
Privileg Day spa offers a full range of spa services, including manicures and pedicures, massages, and facials. The staff are friendly and professional and the atmosphere at Privileg is truly relaxing and welcoming. 
Location
Privileg Day Spa
Ahtri 6a, Admirali Maja 1st floor, Tallinn 
www.privileg.ee/ee/

Click on the address to see the location.
TEXT KRISTINA LUPP,  PHOTOS ANDREI CHERTKOV, PRIVILEG DAY SPA
To learn more about this and similar topics