Pamper your feet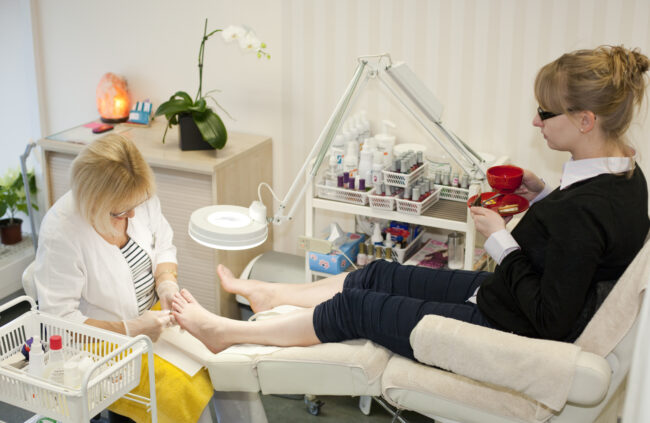 pedicure, i3 viru ilusalong, beauty, tallinn, viru hotel, massage, manicure, relax
i3 Viru Ilusalong is a beauty salon located on the third floor of the Viru Hotel in Tallinn's City Centre. The staff is professionally trained, and top quality service can always be expected.
I had been to the i3 Viru Ilusalong last year for a pedicure with Marge. Marge is a nail technician/ aesthetician who has been working at the salon ever since it opened 11 years ago. She greeted me once again as I sat down in her chair and said: "I remember you by your feet." Feeling a little embarrassed, she reassured me that she remembers all of her clients this way. She gives excellent pedicures, listens to her clients, a sort of informal therapy, she calls it, and spends so much time on their feet that she sees more of their feet, rather than their faces. It certainly pays to become a regular customer here.
The pedicure starts like any other. First, your feet are left to soak in warm water. Once the skin is soft, then your feet are filed and scrubbed, and the nails are trimmed. The best part is the massage. Your feet are massaged with a foaming cream. There are different creams for different skin types, as all feet are unique. Afterwards, you can choose a nail polish colour if you like. I ask Marge what the most popular colours among her clients are and she told me classic red, and blue.
Don't need a pedicure? The i3 Viru Ilusalong offers just about anything else you would need from a spa: hair salon services, waxing, manicures –both regular and gel, as well as many different kinds of massage. The sports massage is particularly therapeutic.
Guests of the Viru Hotel will receive a discount on all procedures.
Location
i3 Viru llusalong
Sokos Hotel Viru 3rd floor (entrance through the hotel) Viru väljak 4 Tallinn Map Code B2 www.viruilusalong
TEXT: KRISTINA LUPP, PHOTOS: ANDREI CHERTKOV
To learn more about this and similar topics