Off to the beach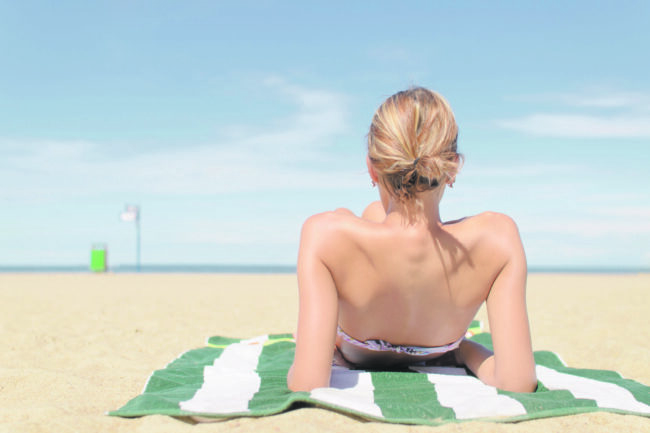 Tallinn's five official swimming beaches boast long sandy shores and fun activities for a summer's day.
Pirita – everyone's favourite Tallinn's most popular beach is Pirita, which stretches for 2.5 km. Thousands of people flock to its shores on a warm summer's day. Pirita is also known for its nearby open air attractions, like the National Botanical Gardens and the Pirita riverside area.
The beach flies a blue flag, this means clean water and quality service. For the beach to receive such a flag, water quality tests, natural reserves, services and security must be looked at.
Pirita's services are many: on the beach you will find changing cabins, beach chair rent and many places to eat. This favourite beach is about six kilometres from the city centre. It's easy to get there with busses 1A and 8. There is ample car parking. You can even walk to Pirita from the city centre or ride a bike along the seaside path.
Pikakari – the pearl of northern Tallinn
Built in 2007, Pikakari beach has become increasingly popular in recent years. This beach, in the northern part of the city, offers superb views of Tallinn. The sandy beach near Catherine's breakwater (Katariina lainemurdja) is 250 metres long. A blue flag also flies at Pikakari beach, meaning the water quality is good.There are changing cabins, swings, benches, WC, bbq areas, and a beach volleyball court. Bus number 59 from the Baltijaam train station will get you to Pikakari. There is a car park next to the beach that can fill up quickly on a hot summer day.
Stroomi – games & playgrounds
Stroomi beach (also known as Pelgurand) is between Kopli and Rocca al Mare is a popular place to take a walk. In the evenings you will see people out walking their dogs, playing beach volleyball, and jogging. The surrounding grassy areas of the beach as a lovely place for a picnic. The water quality at Stroomi is not as high as at Pikakari and Pirita though the water is still suitable for swimming.
There are many services at Stroomi: you can rent sun loungers and pedal cars, changing cabins, a beautiful playground, a cafe, and outdoor gym. Ride along one of Tallinn's best bicycle trails to Stroomi beach from Rocca al Mare. Buses 3, 40, and 48 will also get you to the beach.
Kakumäe – small and close to nature
Another of Tallinn's best beaches is at the tip of Käkumäe Cape, about 15 kilometres from the city centre. This is a great swimming spot in an idyllic area filled with small green houses. There are changing cabins, WC, a playground, kiosk, and playing field.
Käkumäe beach is but a short drive from the Open Air Museum at Rocca al Mare. The easiest way to get to the beach is by car or bicycle.
Harku – a lake in the middle of the city
Another of Tallinn's official swimming beaches is on the shores of a lake. Despite once having a bad reputation for water quality, Harku Lake is still a favourite on hot summer days. There are lots of activities nearby on the playing field and at the Wakepark. You will also find changing cabins, WC, and playgrounds.
The beach is located close to Rocca al Mare shopping centre, and it's easy to get there with pub lic transport – busses 16, 22, 27, 36, 46, and trolley bus number 6.
Flags on the beach
Different coloured flags are used on Estonia's beaches to signify safe swimming. A green flag means it's safe to swim. The yellow flag means that swimming is not recommended, but one can swim at their own risk. A red flag means that swimming is prohibited due to tall waves. Up-to-date information reagrding the flags and and temperature of the sea can be found on the website: ilm.ee/rannailm.
TEXT MIKKO VIRTA, PHOTOS ANDREI CHERTKOV
To learn more about this and similar topics