Northern Worries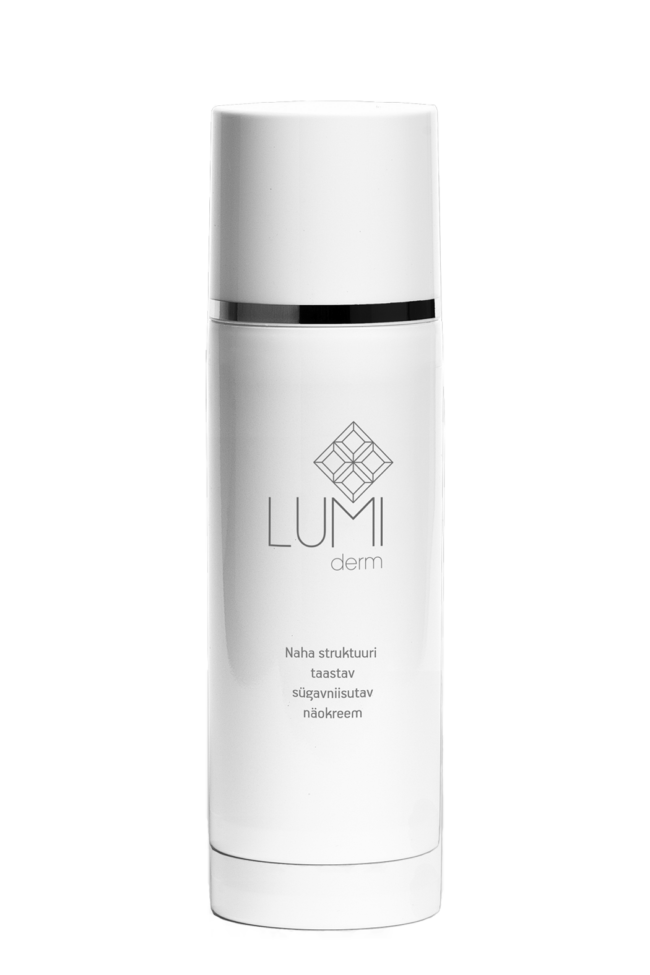 Local skin problems can be easily solved with locally produced beauty products.
Here in Estonia, common skin concerns include redness, dryness, and couperose, among others. The northern climate is harsh, and as a result we need to take special care. Typical northern skin is fair, sensitive to sun, prone to redness, and the exposure to cold winters and hot saunas can cause damage. Heating in winter dries the skin and the hair, as well as our hands.
Face:
Our face is our most sensitive area, but at the same time receives the most exposure to sun and cold. The climate and our sauna tradition is conducive to couperose. You can't fix it, but it can be prevented, and prevented from becoming worse, using the right creams. Creams meant for couperose skin contain anti-redness and soothing components and help protect the skin from further damage. Unfortunately couperose skin is genetic and if your mum or grandmother had it, then you should take preventative measures early.
We recommend:
Lumiderm Skin Structure Restorative and Deep Moisturising Face Cream – suitable for dry and skin prone to redness, couperose, and rosacea. €24.99 (10ml €6.55)
Cheaper option: Ingli Pai Couperose Skin Series – Cream €9.15, Face Oil €8.65
Nurme Chamomile Face Water – suitable for sensitive skin. Can also be used for makeup removal and toning. €6.45
Skin care after a long summer or prolonged sun exposure:
We recommend:
Joik Rejuvenating series – Anti-ageing day cream €23.50, Anti-ageing eye cream €15.90  –
This series reduces to the look of pigmentation and balances skin tone. It contains vitamin B3 and hyaluronic acid, which helps moisturise and improves skin's elasticity.
Hair and Scalp:
There are many reasons for a dry scalp, like washing your hair too often, dryness from heating, or shampoo that contain certain drying ingredients. We recommend washing your hair less frequently and using only natural products. After only a short period of time you will notice your hair is remarkably less dry and stronger and healthier looking.
We recommend:
Aesti Peat Shampoo – contains natural Estonian peat to help scalp dryness. It does not irritate the scalp, washes without drying and nourishes hair from root to tip, leaving hair soft and stimulating follicle growth. €15.99
GN Cranberry Oil Shampoo – suitable for all hair types, including children. €9.99
Nurme Shampoo with Hemp Oil – Hemp oil soothes the scalp. €5.99
Nurme Rosemary Conditioner – moisturises and smoothes hair without leaving it heavy. Helps prevent static in hair. €9.90
Hands:
Your hands need special attention as they are the ones that are exposed to all kinds of things, like cleaning chemicals, weather and frequent washing. Hands can be dry and crack, especially in winter. You want to choose a moisturiser that is strong, but won't leave your hands feeling greasy. A good hand cream only needs to applied once, daily.
We recommend:
Joik Exfoliating Mask for Hands and Feet – a two-in-one product that exfoliates and nourishes the skin. €7.30
Joik Deep Moisturising Salve for Hand and Feet – suitable for both dry and rough skin. Contains cocoa butter, shea butter, and avocado oil to deep nourish the skin. €7.80
Sohvy Pomegranate Hand Cream – softens and nourishes the skin. €5.90 
Where to buy:
Pillerkaar specialises in Estonian-made cosmetics.
Stop in to their shop in Solaris shopping centre
(Estonia pst 9, Tallinn).
pillerkaar.ee

Click on the address to see the location.
TEXT MARJU SEPP, KRISTINA LUPP, PHOTOS PILLERKAAR
To learn more about this and similar topics