Nightlife on a Budget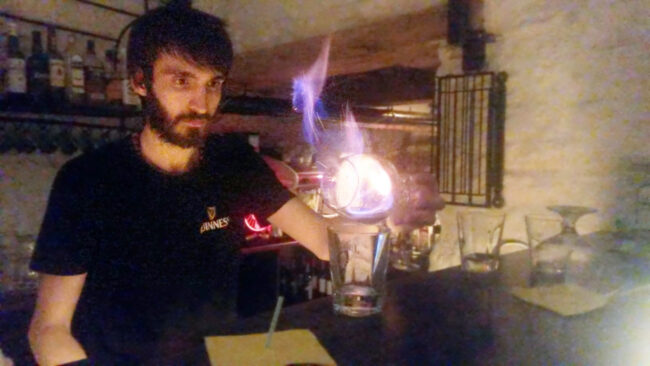 If you've been heading over on the ferry for a few years, you might be under the impression that Estonia is getting more expensive. You'd be right – but that doesn't have to stop you from having a good time. It just means you have to be a bit more judicious about where you go. Allow me to show you the places where nightlife on a budget is possible.
I began at Shimo Wok n' Roll Bar (Rataskaevu 9 / Dunkri 11, Tallinn Old Town, https://et-ee.facebook.com/Shimo-Wok-N-Roll-Bar-679745818766542/), the new version of the classic drink, food and fun cellar that was situated at the edge of Suur-Karja street. Now it's on Rataskaevu, up the hill in the Old Town, and it's still got a similar atmosphere to the old stamping ground of so many Tallinn-based foreigners. Some of the anarchic nature of that old hiding-hole has vanished, but in its place is a larger food menu, a bigger area for sitting and chatting in large groups, and one of the most interesting buildings for a bar I have seen, being on three levels with a cavernous function room at the end. The service is hit-and-miss, but the food is spot-on, usually for less than €6, and there's a good selection of beer for €4 or less.
What makes Shimo so important for getting to know others in Tallinn is that it often hosts Friday-night meetings of the Tallinn Couchsurfing group, which remains the best way for local people and foreigners to get to know more about their interests in a fun, non-threatening environment. Meetings are well-organised and are flagged up well in advance on the group's Facebook page, so you can plan to go along. Rob, the Canadian owner of Shimo, also occasionally DJs, and that's worth witnessing.
Moving on from Shimo, there's a place where, if your late-night tastes are more towards Indian or spicy food, you'll be in good hands. That place is hidden away on the corner of Roosikrantsi street and is called Hookah Palace (Roosikrantsi 3, Tallinn, www.hookahpalace.ee/et/). If you can get past the joke-worthy name, and the unprepossessing surroundings, the bar is outstanding, now with two floors. On both, there are smoking areas for water pipes, and there is a spacious dining area on the top floor. The curry and naan I had was at least as good as anything I could get from the fancier restaurants in the Old Town, only at half the price. The choice of beer is fairly eclectic, featuring the likes of the very light and tasty Blond Monk, and its darker sister, Must Nunn.
The atmosphere is so welcoming and open to newcomers in Hookah Palace that I am perpetually surprised that more people do not make it a destination. It's so close to Freedom Square that you need only cross the road to get there – and on Saturday nights, there are often belly-dance shows. If that's not appealing, I don't know what is.
Actually, I do, and it's thirty feet away from Hookah Palace, still on the same street. Euphoria Hostel (Roosikrantsi 4, Tallinn, euphoria.traveller.ee) is a place I go if I want to be with friends in a place that feels, pleasantly, like someone's living room, with frequent live gigs having hostel guests alongside paying customers perched on bean-bags on the floor. It won't surprise you to note that the function area, which often fills up for big events, is also used for meditation events and the like – however there are dance parties there, and if you're really lucky you can also get a room in the same hostel. Service is friendly and the decor of the room fills you with optimism.
Surely that's what going out in Tallinn should be all about – going out with optimism, and coming home with money left in your pocket.
Click on the address to see the location.
TEXT STUART GARLICK, PHOTOS EUPHORIA HOSTEL, ANDREI CHERTKOV
Stuart Garlick is a journalist and English language teacher based in Tallinn. Since 2012, his blog, Charm Offensive, has covered food, music and fashion in Estonia.
To learn more about this and similar topics