Natural Beauty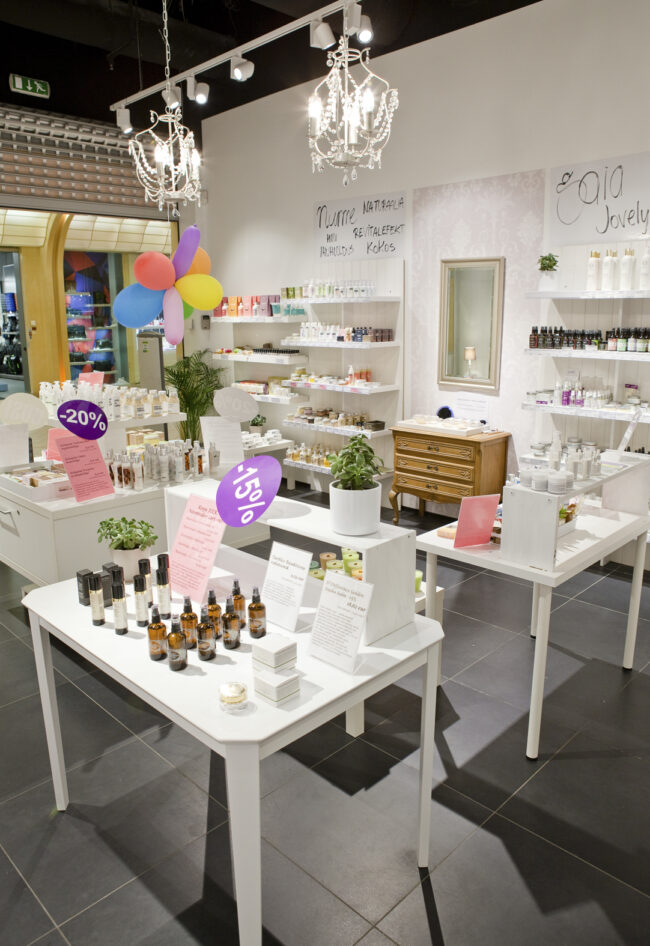 Get to know local Estonian cosmetics.
The Estonian cosmetics industry continues to grow with more producers and products popping up every year. The quality of local cosmetics has improved as their popularity spreads throughout northern Europe.
We wanted to find out more about Estonian cosmetics, so The Baltic Guide visited Pillerkaar, which sells only locally-made cosmetics. Their shop in Solaris (located right in the heart of Tallinn, near the Estonia Theatre) opened last year and the amount of Estonian producers and products available has only grown since. Now, Pillerkaar sells products from over 30 different Estonian cosmetics producers. "We now know that the Estonian market has become competitive and there are new products available every month", explains Marju Sepp, owner of Pillerkaar. "We've seen different producers as well as the development of specific products this year- products have become more complex. For example, we have a good selection of eye creams, face serums, face masks, as well as shampoos and conditioners". The biggest surprise for Marju was that most of these products can be marketed as natural, and it's also important to note that most of the producers use as many local ingredients as possible.
To get you started, here's a look at three cosmetics producers in Estonia. All three companies are very different in the array of products they offer as well as price range.
Puhas Loodus or Orto is Estonia's oldest cosmetics producer (in business for 84 years) and continues to be one of the most popular. Ninety-five per cent of their ingredients are natural and most of the components meet Ecosert certification standards. They continue to offer their products at an affordable cost. Puhas Loodus means Clean Nature in Estonian and they use many healing plants, like chamomile, nettles, sea buckthorn, hop, juniper, rosehip, and calendula, just to name a few.
Joik is another popular brand in Estonia. Their product range is wide and they already have many different lines, including most recently, an anti-ageing series. Their aim is to use as many local Estonian ingredients as possible. For example, Joik soaps contain Estonian rapeseed oil. They also use Estonian sea buckthorn oil, different herbs and honey. Thanks to the good price-quality ratio, it is a consumer favourite. Joik's products fall into a medium price category and are popular among even those that otherwise wouldn't seek out natural cosmetic products. Joik is influenced by centuries old folk wisdom and traditions. The warming foot bath salts with ginger and mustard are inspired by the old Estonian custom of mustard baths to cure a cold.
Nurme is a growing company that prides itself on their handmade soaps, creams, hair care products and more. Their aim is to use as many natural and ecologically-friendly ingredients. There is something for the whole family, and especially for those with sensitive skin. Nurme is a true local success story. They started as a small company making soaps and candles at home and now offer a wide array of products that are available in stores across Estonia. Nurme prides themselves in a sustainable business model, trying to leave as little waste as possible. Scents come from natural essential oils and colouring from clay or locally grown herbs. All products are free of synthetic scents and colouring. 

Location
Pillerkaar
(1st floor, Solaris Shopping Centre)
Estonia pst 9, Tallinn
pillerkaar.ee

Click on the address to see the location.
TEXT KRISTINA LUPP, PHOTOS ANDREI CHERTKOV, PILLERKAAR
To learn more about this and similar topics