Modern Beauty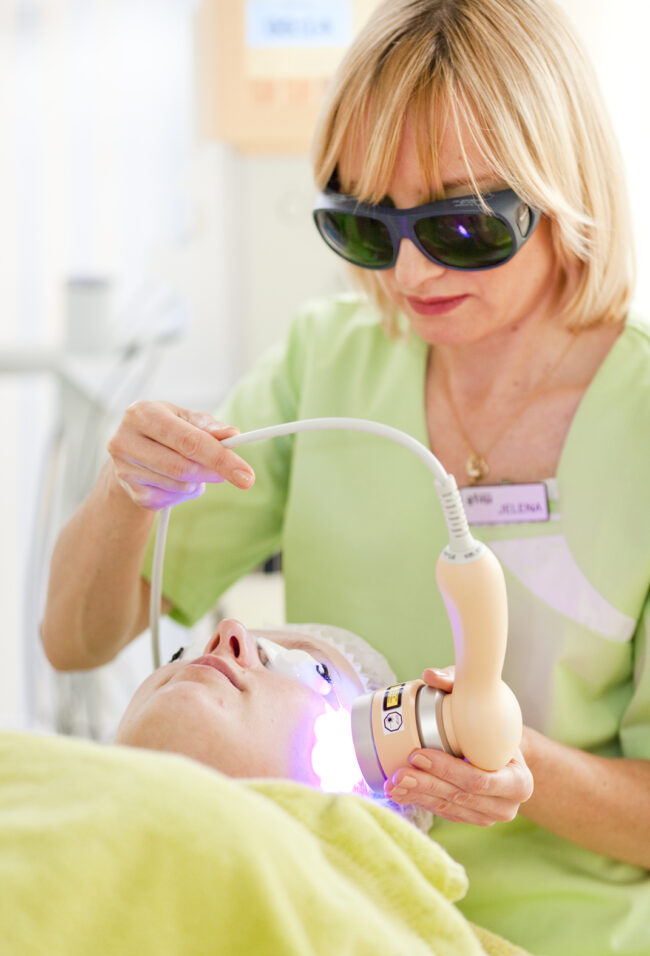 The hyaluronic acid cocktail for face and neck begins with a laser treatment with the NNMTM device.
Specialised procedures, professional service, and a comfortable atmosphere are just some of the reasons Freya Estetica stands out from the rest.
Non-invasive beauty treatments are becoming more and more common. Women, and men, don't have the time to take a few days from work to recover from a beauty procedure. The No-Needle Mesotherapy procedure for example, takes just an hour and a half, and offers you relaxation as well.
Freya Estetica is located in Tallinn's city centre, right on the edge of the Old Town. While they have a regular client base, stepping in as a first time client, I felt right at home. Depending on which procedure you are trying, you will have to fill out some forms, including a short questionnaire. This is to make sure that the treatment you are undergoing is suitable and that you will get the best results.
I tried the No-Needle Mesotherapy, a procedure that has become quite popular in the last little while. "All of our staff have gonethroughthoroughtraining", explains Jelena, my cosmetologist.
Jelena is also great at answering all of my questions and explaining exactly how the procedure will go. The hyaluronic acid cocktail for face and neck (2 hours, 119€) begins with a laser treatment with the NNMTM device. This machine uses both a laser (red and infrared) and electrotherapy (electro stimulation, micro currents for mio-lifting, lymphatic drainage and interferential therapy). This combination helps the cocktail reach deep into the skin.
No-Needle Mesotherapy NNMTM treats both cellulite and age-related skin issues by encouraging the penetration of a topical solution. As the title suggests, it does not use any needles, and as I found out, is so relaxing that it's not difficult to fall asleep during the procedure. After the laser has gone over your skin, then the electrotherapy begins. This ensures that the hyaluronic acid solution reaches deep into the skin. The solution, or cocktail, lifts skin, strengthens blood vessels, deeply hydrates, and restores tissue metabolism. In other words, it leaves your skin looking and feeling great.
To get the best results, you should undergo 8-10 treatments, though you may even notice results after one treatment. Jelena suggested having a course of treatment twice a year. In December, customers will receive 10% off No-Needle Mesotherapy.
Location
Freya Estetica
Aia 4/VanaViru 13, 2nd floor, Tallinn
TEXT KRISTINA LUPP, PHOTO ANDREI CHERTKOV
To learn more about this and similar topics