Made in Estonia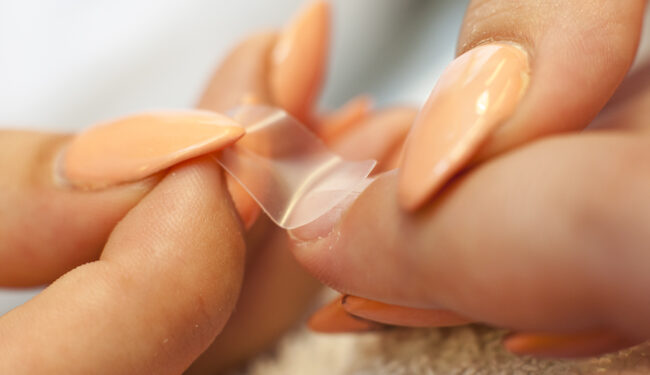 Gel nail polish that you can remove at home without soaking – available only at Nail Spa.
Peel-off gel nail polish is probably the best nail polish to come along since, well, gel nail polish. Gel nail polish offers clients a quick drying nail polish that lasts from 2-3 weeks. The only problem with gel nail polish is that when it starts to grow out or chip, you have to go back to the salon to have it removed. Its removal means a soak in acetone for the polish to come loose. Once or twice a year this isn't so bad, but for those of us that like to have our nails done on a regular basis, the effects of an acetone soak is harmful to our nails.
ProNails has the solution – the SoPolish Protect and Peel manicure. It offers the same great long lasting colours that can be peeled off at home without damaging your nails.
I just had to go and try it for myself to see if it was true. The manicure starts off like a regular gel polish manicure. Your hands are not soaked, but the manicurists does clean and trim your nails. Once the nails are ready to go, a thin film, something like a second skin is applied to each nail. The film comes in different sizes to suit all nail widths. The excess film is cut and the polish is applied.
"The film is so thin that you wouldn't even know it's there", explains Esti Hutchins, NailSpa's manager. "The film protects your nails and when it's peeled off, there is no damage".
It's true. My red polish lasted almost three weeks (the colour had grown out, but had not chipped). I started to peel it off one by one and I was amazed at how easily it came off. The result – my nails looked just as smooth as before the polish had been applied."The Peel and Protect manicure is great for people who want the long lasting colour of a gel polish, but without the damage to their nails", explains Esti. "If you were afraid of trying gel polish before, now is your chance to try it. The gel nail polish does not even touch your nails".
SoPolish Peel and Protect, which includes a quick manicure and polish application, lasts up to one and a half hours and costs €25. Bookings recommended.
Location
NailSpa
Narva mnt 9, Tallinn TEXTKRISTINALUPP,PHOTOSANDREICHERTKOV
To learn more about this and similar topics