Interview: Radoslav Mitro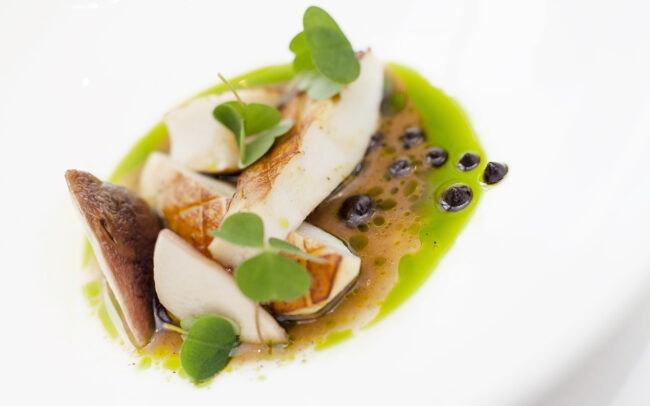 The Baltic Guide visited Ribe, chatted with their new chef, and even got to sample some of the new dishes on the menu.
Radoslav Mitro is from Slovakia, and since 2008 he has been working in top restaurants throughout Europe. He has worked in London, and even the top restaurant Noma. Rado's cooking style encompasses the simplicity of local seasonal ingredients, and incorporates elements of classical French and Nordic cuisines. However, his extensive travelling always brings new ideas and techniques into his cooking, allowing his talent to grow.
At the end of September, the menu at Ribe changed. The Baltic Guide had a chance to go and taste some of Rado's new dishes, and talk about his food.
How did you become interested in cooking?
I grew up with food. And Slovakia has a good food culture, where we eat a lot of the same things that you do here – pork, lard, potatoes, and sauerkraut.
What brought you to Estonia?
My girlfriend. I've only been here a few weeks and I have fallen in love with the country. I will start Estonian lessons next week.
What has inspired you most about cooking here in Estonia? Do you have any favourite ingredients?
I think that you take something with you from every place you've lived. In Estonia I have been spending the last few weeks, as well was my days, familiarising myself with the ingredients here. I like going to the market. Last month I spent every Sunday foraging. I love the mushrooms you have in Estonia. I love the taste of kali (a fermented drink made from black bread). I will be incorporating that into the new menu, as well as cabbage. I am very happy here and feel hon- oured to be part of the Estonian culinary community.
Have you had the chance to try other restaurants in Estonia?
I am impressed with the restaurants here, both fine dining and casual. One of my favourite discoveries is the black bread garlic bread that they serve in pubs. And while it's nothing fancy, I do enjoy the pancakes at Kompressor too!
Location
TEXT KRISTINA LUPP, PHOTOS ANDREI CHERTKOV
To learn more about this and similar topics