International Cuisine in Tallinn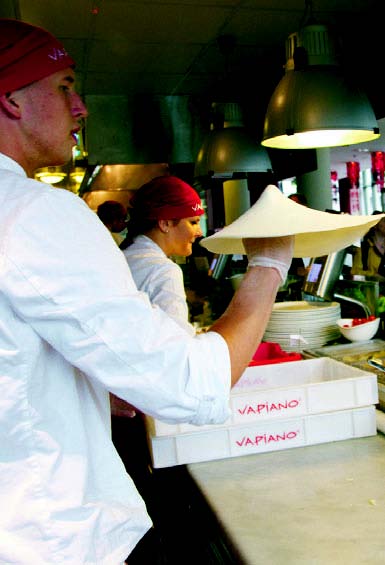 Tallinn offers more than just Estonian food.
The modern traveller wants to try local cuisine, but sometimes you just want that taste of home, wherever home may be. Here are a few suggestions for where to find the best of whichever cuisine you are craving.
Kuldse Notsu Kõrts (Golden Piglet Inn)
It doesn't get much more Estonian than this: sausage feasts, pork roasts, sauerkraut, and beer. Try a glass of their housemade lager.
Dunkri 8, Tallinn Old Town H1
hotelstpetersbourg.com/kuldsenotsu- korts.html
Maiasmokk
Maiasmokk has great pastries and an even better interior. The rooms have been used as a café for almost 200 years! The walls are covered with wood and mirrors, originating from its heyday when the place was called Stude.
Pikk 16, Tallinn Old Town G2
http://kalev.ee/en/maiasmokkcafe/cafe
La Bottega
We have asked some Italian ex-pats living in Tallinn what their favourite Italian restaurant is, and Bottega comes back as the best. They offer a large selection of ravioli and other stuffed pasta, including the best fried squid you'll find in Tallinn.
Vene 4, Tallinn Old Town H2 Estonian
Le Chateau
Le Chateau is a good example that French cuisine can be something more than just "gourmet." Generous portions of traditional French dishes will keep your belly full without emptying your wallet.
Lai 19, Tallinn Old Town A2
www.chateau.ee
Vapiano
This European chain now has two locations in Tallinn. If you've never been, here's a quick lesson on how it works: the hostess provides you with the customer card onto which all purchases will be entered. Food is ordered from the various stations (pizza, pasta, salad) throughout the restaurant, and prepared while you wait. Pasta is made fresh in house.
Vapiano 1, Foorum Shopping Centre, Hobujaama 10. Tallinn B2
Vapiano 2, Solaris Shopping Centre, Estonia pst. 9. Tallinn B2
Troika
This long-running Russian restaurant expanded last year to cater to the ever-growing demand for authentic Russian food, drink, and service. The walls and bright interior are luxurious, but in no way excessive. The authentic Russian food is well known at Troika and the service is theatrical. Think: waiters pouring vodka shots from high up.
Raekoja plats 15, Tallinn Old Town H2
www.troika.ee
Clazz, Clayhills, Mad Murphy's, Mack Bar-B-Que
We just couldn't decide, so we'll let you. All four options offer a delicious gourmet burger.
Clazz Vana turg 2, Tallinn Old Town H2
www.clazz.ee
Clayhills Pikk 13, Tallinn Old Town H1
www.clayhills.ee
Mad Murphy's Mündi 2, Tallinn Old Town H2
www.madmurphys.ee
Mack Bar-B-Que Tartu mnt 63, Tallinn B3
www.americanfood.ee
Drink Baar
Drink mixes all the good aspects of British pub culture (homely decor, wholesome menu and sport on TV) with a wealth of events that has placed it in the centre of English speaking culture in Tallinn. The regular comedy nights are certainly a major pull and the existence of a regular pub quiz has proved a hit with homesick Brits and curious locals alike.
Vaike-Karja 8, Tallinn I2
www.drinkbaar.com
Estlander
Want the medieval restaurant experience on a smaller scale than at the bustling Olde Hansa; visit Glad Estlander. They offer traditional Estonian food served in clay crockery, and drinks in old fashioned goblets and colourful glassware. Enjoy hearty stews, or if you can't choose, a tasting menu is offered too.
Vanaturu kael 3, Tallinn Old Town H2.
Karja Kelder, Kompressor
Both of these casual pubs are institutions among Estonians and expats alike. Karja Kelder offers cheap filling pub-style meals, incorporating Estonian and British cuisines. Kompressor is known for their massive pancakes that come stuffed with savoury or sweet fillings.
Karja Kelder Väike-Karja 1, Tallinn Old Town I2
http://karjakelder.edicypages.com
Kompressor Rataskaevu 1, Tallinn Old Town H1
Chakra
If you are craving some spice visit Chakra for some wonderful Indian food. The courtyard patio is in the back of the restaurant and is situated off a quiet Old Town street, making this a great place to relax with friends.
Bremeni käik 1. Old Town G3.
Narva Kohvik
If you want to see what a café looked like during the Soviet period in Estonia, visit the Narva Kohvik. It hasn't changed much in sixty years! Locals love this place for its delicious pastries and cakes. Light lunches are also on offer.
Narva mnt 10 Tallinn B3
www.kohviknarva.ee
To learn more about this and similar topics