Individual quality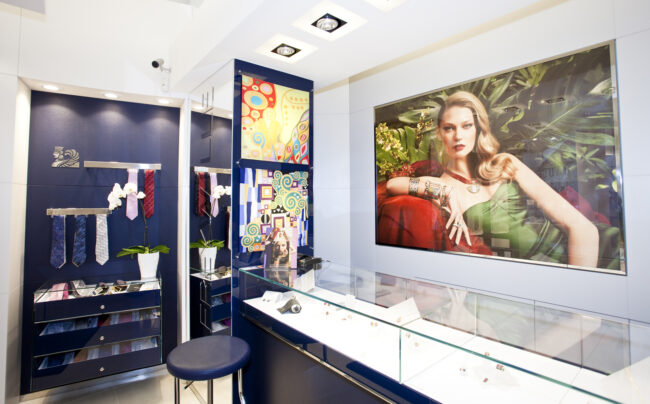 Pärnu mnt Freywille, Pärnu mnt 12, Tallinn Old Town Burberry, Armani, and Gant estonia boutique
The start of Pärnu mnt is slowly becoming Tallinn's high fashion area. The latest addition to this strip is Freywille, which sells jewellery, silk products, and other valuable items. In the same area you will find Burberry, Armani, and Gant.
Freywille is an Austrian company, which at the moment has 90 shops around the world. The most notable and unique items that Freywille sells are their gold and enamel jewellery. You can find colourful bracelets, earrings, cufflinks, belts, watches, and more. As soon as you walk in the shop, the bright colours and unique designs immediately catch your attention.
Colourful silk shawls hang from the walls of the store. Shawls cost around 65€ and you can buy some jewellery to match. There is a large selection, of which some pieces are gold and some are gold plated. Men can get a silk tie for about 150€. You certainly find value for money, especially when you take into consideration the luxury and individual quality of the items.
Location
Freywille, Pärnu mnt 12, Tallinn Old Town
TEXT JUKKA ARPONEN, PHOTO ANDREI CHERTKOV
To learn more about this and similar topics