Hop On, Hop Off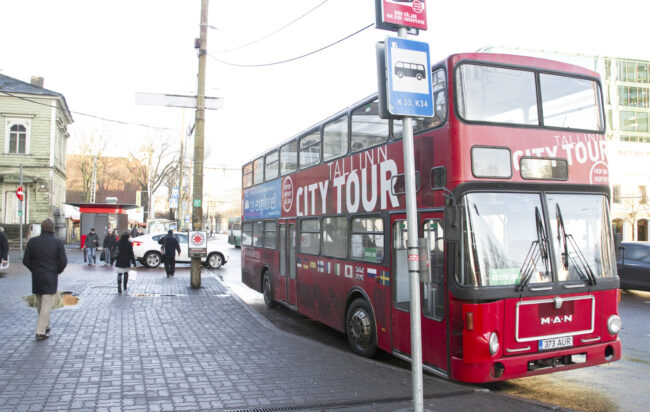 A bus tour is a great way to see the city's sights while keeping warm.
Why not take an afternoon to enjoy the sights of Tallinn from the comfort and warmth of the big red Tallinn City Tour bus. If you have travelled in Europe, then you have probably seen a city tour bus already, as they are running in most major European cities.
The Tallinn City Tour offers three different routes. The tour operates in ten different languages and is guide by a recorded audio track that follows the sequence of the sights. One ticket (€19) is valid for 24 hours or €23 for 48 hours. Family packages are also available, as well as discounts if you book online. This means that you can travel on all three routes in one day. Tallinn Card holders can can choose one free tour.
The Red Line – This route lasts one hour and gives a good overview of the history of Tallinn. It is the most popular route among tourists, as you really get a sense of how Tallinn has changed over the years. This is evident in the architecture.
The Blue Line – This route also lasts for one hour and travels west outside the city centre to give you a taste of the old countryside at the Open Air Museum in the Rocca al Mare district.
The Green Line – This route travels east in the opposite direction towards Pirita Convent. Along the way, the bus stops at Kadriorg Palace, the Song Festival Grounds, Maarjamäe Castle and the Estonian History Museum.
All three lines pass through the Port of Tallinn, so if you are coming from Helsinki or Stockholm then it is a great way to start your weekend in Tallinn. Other packages are also available including the Bus & Top Stops package where one ticket can be used on all three lines and includes access to two museums. Try the Bus & Balloon package where you can take a ride on both the bus and Balloon Tallinn for an unforgettable view over the city.
Check the website www.citytour.ee for schedule details and stops.
TEXT KRISTINA LUPP, PHOTOS ANDREI CHERTKOV
To learn more about this and similar topics