HOLLYWOOD VS. PRIVE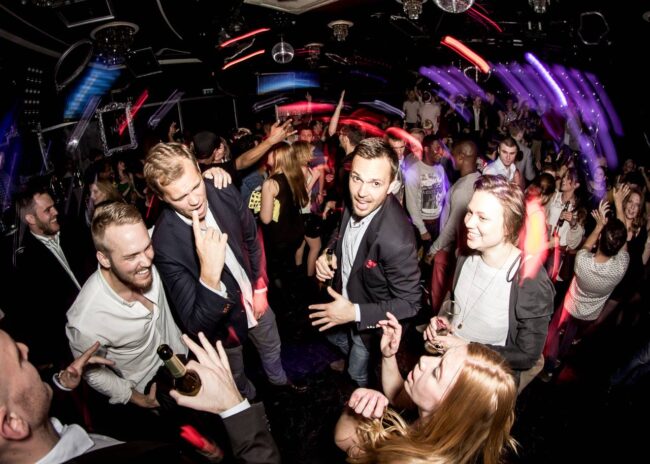 This month it's the clash of the titans: a face-off between the major mainstream nightclubs of central Tallinn. We can all find a favourite bar, a preferred corner of the city, for chatting, listening to live music, eating, or even (should the evening take you that way) downing shots. But what about when you're "out-out"? When you need the hit of positivity you can only get from being in a sweaty room with 200-300 people jumping to EDM music? For those times, you've got to go for the giants.
Club Hollywood
Vana-Posti 8, Tallinn Old Town 
The classic guilty pleasure, Hollywood is the place no Tallinner will admit enjoying – but regularly filled to capacity at weekends, someone must be. Hollywood's ranks are swelled in the summer by a regular trickle of tourists, drawn to the club by its central Old-Town location. There are regular events, such as the monthly Grind drum-and-bass gathering, that tend to fill the old Stalinist Sõpruse Theatre.
It was at Grind that I saw the best and worst of Club Hollywood. Queuing for two hours to get in is never a pleasant prospect, and there were numerous times in that queue when I hoped the club might send someone out with warm drinks for the punters. But, of course, this is Tallinn, and you've got to cowboy up and fend for yourself.
Finally getting into the club, the building's versatility becomes clear. There is a big dance floor, surrounded by standing areas and upstairs you can watch the action. It's almost like the building's Russian architects planned a nightclub before the time. There is plenty of space to move around, and the wait is never too long to get served.
Overall, it's a bit like a music festival in a muddy field. A sprightly 23 year-old will revel in the experience, feeling it's the ideal environment in which to hear music, make new friends, and get off with old friends. But as soon as you cross over into your thirties, getting sweaty while a guy behind the mixing desk instructs you to "make some noise" can seem a bit off-putting.
Partying at Club Hollywood is a young person's game. If you are one of those, you will not find your life mate, but you will have a good time with similarly uninhibited people, provided you're not after any subtlety.
Club Privé
Privé is seemingly a smaller brother of Club Hollywood, but somehow they've managed to give it more of an inclusive, adult, spin. It might be the relatively friendly security guards stationed on the door, or the way that a full ticket gets you into not only the main part of the club, but also into one of the lounge areas (the other lounge is for VIPs), but the place makes one feel like you're being welcomed and asked, rather than expected, to enjoy your night.
There are frequent guest DJs, as at Hollywood. However the music rarely deviates from the regular chart fare, and that is what the crowd, by and large, wants to hear. Although still a young-ish clientele, people who go to Privé are far more likely than Hollywood visitors to be in their thirties, and as such, are a lot more musically-conservative. You're likely to hear a few nineties classics alongside "Uptown Funk" on a Saturday night, but aggressive dubstep, for example, is a rarity. It might be all the better for that.
Drinks are about the same price as in Hollywood, but you don't feel like you're being fleeced here, because you can enjoy your drinks a lot more when you feel relaxed. The dancing girls and trapeze artists are consistently impressive; only the best are hired.
I'm perhaps painting a picture of a staid place – Privé isn't that. You'll have a lot of fun here, but without any of the baggage or hassle of standing in the crowds of Hollywood. You get dressed up for a night out hoping to feel special when you go somewhere, and Privé delivers that in spades.
To learn more about this and similar topics