Greek comfort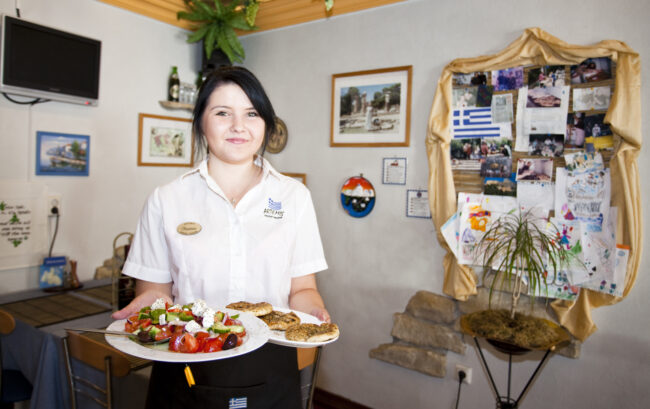 Greek comfort
I think we might have a winner!
This Greek restaurant has all the staples: souvlaki, tzatziki, dolmadakia (grape leaves stuffed with rice), and kihi spanakotiropita (spinach and feta pie), as well as a small selection of Greek wine. As an appetiser we tried the tzatziki (4€) and melitzanosalata (3.50€), an eggplant dip with grilled pita(2€). The pita was served warm and sprinkled with dried oregano and bit of olive oil. The dips, especially the tzatziki were portioned generously, leaving a little bit to accompany the souvlaki.
As a main course, the souvlaki special (15€) is served with salad and grilled vegetables. A side order of fries (2€) is a good accompaniment. The mixed platter for two (30€) has a little bit of everything –sausage, chicken, pork, fries, and salad. It is also a very generous portion that could in fact be easily shared between three people.
While it is one of those places where they charge you extra for every addition and side dish, the portions are large. For two people, with two beers, appetiser and main course the total came to 40€.
Location
Artemis. Pikk 35 Tallinn Old Town Map
TEXT KRISTINA LUPP, PHOTOS ANDREI CHERTKOV
To learn more about this and similar topics