Gourmet Luxury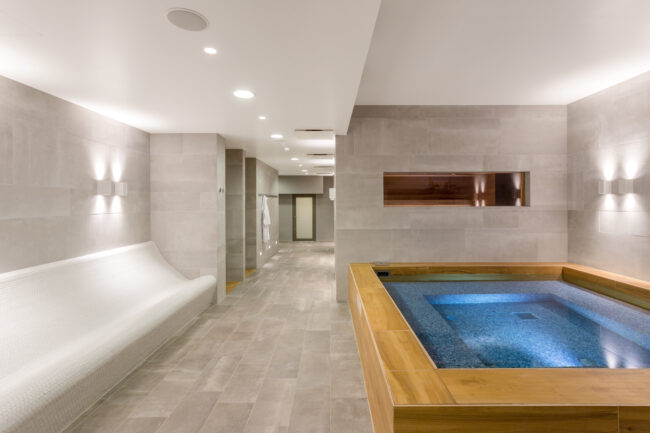 Six new saunas and a top Estonian restaurant are just two reasons to visit Laulasmaa Spa this winter.
For anyone visiting Estonia, time spent in a sauna is a must. This past October, Laulasmaa underwent a huge renovation of their sauna centre, adding six new saunas and generally improving the facilities, making them bigger and more luxurious.
Laulasmaa has steam, waterless, salt, and a Finnish sauna, as well as a sanarium and a traditional wood-burning sauna.
The Pine Cone Sauna, with temperatures reaching up 95 C, yes celsius, has medium humidity. This is the kind of sauna where you should cool down in cold water between sessions. Saunas like the Aroma Sauna and the Maritime Aroma Sauna are slightly cooler and good for improving the immune system and aiding with respiratory problems. While you can read about all of the saunas on their website www.laulasmaa.ee, classic is, by far, the outdoor sauna where once again the medium humidity sauna is heated to 90C and then you can cool off in the outdoor pool afterwards.
Laulasmaa Spa is a multipurpose destination – a wellness spa, hotel, and conference centre. Their restaurant, Wicca, has been chosen among Estonia's 50 Best Restaurants for the fourth year in a row. Award-winning head chef Angelica Udeküll takes care that all the products are fresh and of local origin. Set among pine forests, it's a wonderful retreat any time of year.
The water and sauna centre is open daily from 07.00-22.00.
Location
Laulasmaa Spa & Conference Centre
Puhkekodu 4, Laulasmaa, Keila parish
http://www.laulasmaa.ee/
Click on the address to see the location
TEXT KRISTINA LUPP, PHOTOS LAULASMAA SPA
To learn more about this and similar topics