Good stock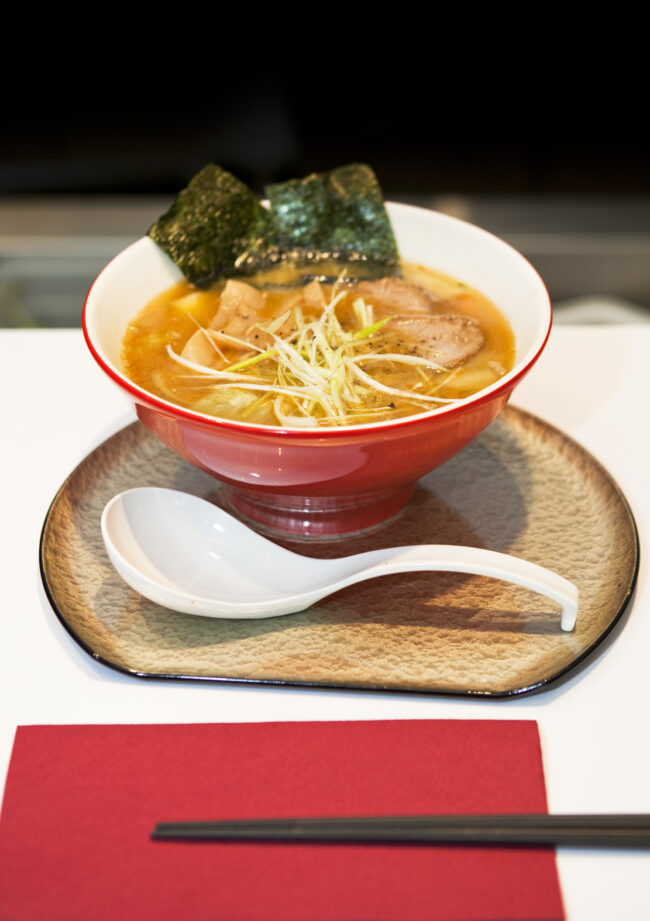 Ramen at Tokumaru
Tokumaru feeds Estonia's love affair with Japanese cuisine.
It was a Daigo Takagi's dream right from the beginning to open a Japanese restaurant in Tallinn, and thanks to the success of Momo (the place to get all things Japanese), this dream has become a reality. The story is very familiar, Daigo came to Tallinn six years ago to study and fell in love with Estonia. "Estonians are very honest and shy people, very similar to Japanese people", he explained in perfect Estonian. "We want to show people that there is more to Japanese food than sushi. When we opened the restaurant, we didn't even want to serve sushi", Daigo told me. For those that love sushi, don't worry; Tokumaru has a small sushi menu too. I tried the Aburi salmon. The salmon is served over rice and is cooked very slightly on one side. The result is a slightly caramelised piece of salmon that melts in your mouth, and is topped with a thin lemon slice.
Ramen has become popular all over the world, though it's just starting to reach us here in Estonia, thanks to Tokumaru. According to Daigo, ramen has not even made it to Helsinki, but Finns do know what it is.
Ramen is soup. It is a homestyle food that seems very simple when it is put together, but the different elements of the dish take a long time to prepare. Ramen has four parts: the bouillon, the noodles, the sauces, and the toppings.The bouillon is the base of the soup. It cooks for seven to eight hours. The noodles are made in house from Estonian wheat flour. The miso paste is also made here. "The recipe is 36 years old. It is traditional, yet modern." Daigo couldn't tell me more because it was a secret recipe. Tokumaru serves five different types of ramen, which range in price from €7.80 – €9,80. Smaller portions are also available, or in combination with sushi.
The restaurant is located on the second floor of the Solaris shopping centre, just above the cinema. The minimalist décor suits the restaurant well, leaving nothing to distract you from the food, well, except maybe the open kitchen and the wall of windows offering a lovely view over the street.
Location
(Inside Solaris Shopping Centre)TEXTKRISTINALUPP,PHOTOANDREICHERTKOV
To learn more about this and similar topics