Good old-fashioned hipster fun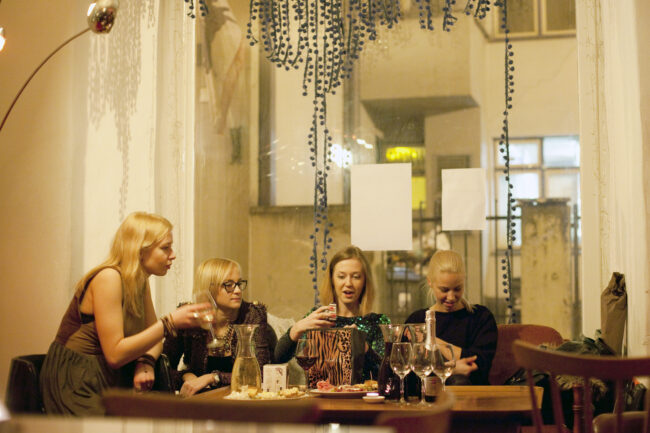 We all know, by now, about Tallinn's Must Puudel café, but if you've been there loads of times, what are the alternatives for an Old Town hipster night out? Where can you go if you need to give the black dog a rest? There are a number of alternatives, for people who like socialising without the need to wear designer clothes or listen to chart music, and would rather have something alternative. Best of all, and perhaps surprisingly for Tallinn, the service is excellent in each of the following three places.
Frank
A new café, Frank, has opened on Sauna street. As with most cafés in Tallinn's Old Town, this establishment is as much bar as eatery. They serve food until late, and offer all the usual drinks, earning bonus points for not just selling the rather drab Saku or A Le Coq, but also the likes of Hoegaarden. Where Frank really wins is with its interior, which is meant to be evocative of an old-fashioned Parisian wood-panelled watering-hole, and, though that kind of retro touch can seem horribly fake elsewhere in Tallinn, here it works, and works very well.
Tallinn's English-language writers' group held its most recent meeting in Tallinn, and somehow it felt, though it was down a sidestreet in a northern-European capital, like the kind of place where Ernest Hemingway in his Paris days would go to scribble thoughts about the world around him. The reds and blacks of the café lend heaviness to the experience, but that's what you'd get in Paris, and the Estonian fashion magazines from the inter-war years lining the walls of the toilet are utterly charming.
Paar Veini
Though Frank remains open until midnight or after, it's better to head out to see the other action, just across the street, in Paar Veini. With a similar atmosphere to Frank, but less burdened by interior darkness, Paar Veini caters for the crowd who are old enough to enjoy wine, but young enough to want to get drunk on a cheap carafe of the stuff. Of course, everything inside looks classy and cosy, with the stone-walled building accommodating three separate rooms – the main front room, a room commonly used for dancing and live performances, andabackroom-butthisisa place for a variety of people.
You will find the hipsters, of course, recognisable often by their thick-rimmed spectacles, their lengthy beards (if they are men), and their clothes from the 1960s and before. Though many people express an instant dislike of hipsters and their ironic adoption of all that has passed, this writer's instinct is that this is, itself, a standpoint, designed to provoke. Paar Veini, in which all the young world is there to see, is the perfect place to find out more about a subculture. And in the back room, couples can cosy up to each other, and people can have private conversations at a lower volume, making Veini a perfect bar for young romantics. The house wine may not be up to much, but if you come to Paar Veini, it's for the quantity of wine
available for a low price.
Sinilind
Müürivahe 50, Tallinn Old Town 
Finish your night up at Sinilind – the café, bar and nightclub all in one, which was created partly because of the enormous popularity of Must Puudel, where weekly music quizzes and parties took place, and people had to be turned away because of the small cubby-hole of a café being filled to capacity. Must Puudel still holds Saturday-night parties, but so does Sinilind, and the music quiz has moved to the bigger establishment's dance floor. Based in Tallinn's historic Kinomaja, the old cinema auditorium has been converted to a place to dance and hear live music, and where many local musicians have launched new albums of late. There are also two bar-style sitting rooms, and a backroom café, where cakes and coffee are served alongside the alcoholic drinks. With each room having a slightly different decor, Sinilind is a feast for the eyes. Having spent New Year in there, finding it impossible to leave the superb set of old-skool hip-hop being played in one of the rooms, part of an astonishing musical variety inside, I now make this sprawling house of fun a regular end to my nights out.
To learn more about this and similar topics