Good meat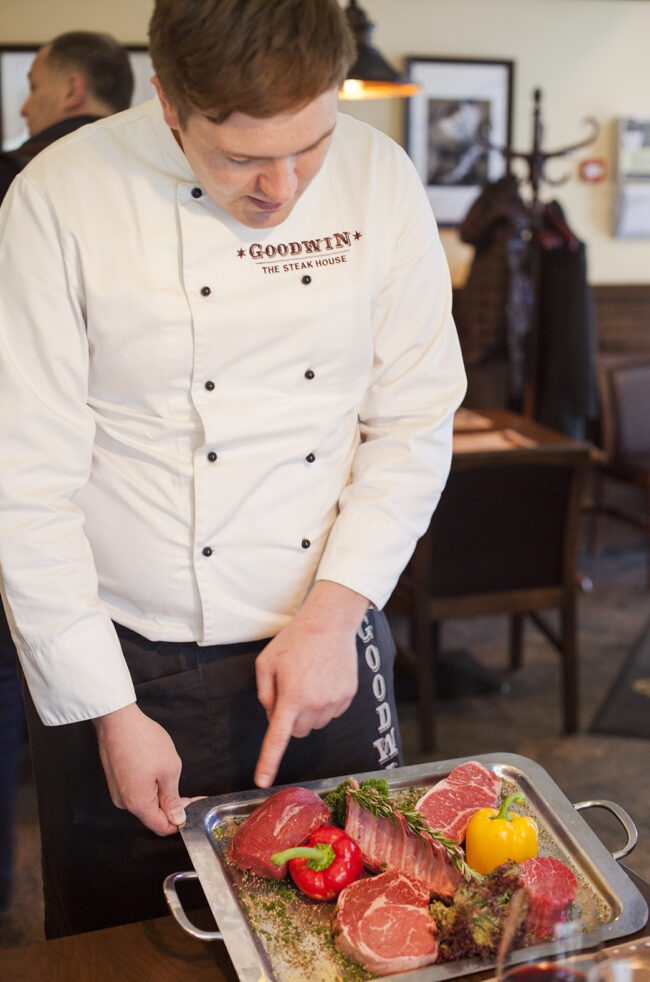 There is nothing as satisfying as a great steak, cooked properly, with all the fixings.
Good quality meat and proper cooking methods are the basis of a good steak. Goodwin Steakhouse has got this in spades. The menu, of course, is not just steak, but steak is what they do best. The meat is Australian Black Angus beef, which is beautifully marbled, leaving the perfect balance of juiciness and flavourful fat. Choose between different cuts, like NY strip, rib eye, T-bone, and filet mignon, and then have them cooked to your liking.
If you ask, you can choose your own cut of meat from a platter the waiter brings out. The steaks are prepared in Goodwin's own Josper coal furnace, which adds its own unique flavour. The steaks are sea- soned with nothing but a little bit of salt and pepper.
On our visit, we decided to try the rack of lamb (€9.50/100g) and the Iberico Secreto (€22.50), a Spanish pork shoulder cut . The lamb was well cooked, soft and flavourful, as was the pork. Both cuts were beautifully marbled, and the flavour from the grill was truly divine. I have tasted many different steaks in my life and I can say that this pork dish was one of the best I have ever had.
From the fish menu, we decided to try the Dorado (€23), which was just as tasty. It was served whole and grilled as well. So don't worry, even non meat eaters will be satisfied at Goodwin.
Sides are chosen separately. Grilled vegetables and differ- ent kinds of potato dishes cost between €4-€5. There are four different sauces to choose from as well, depending on individual taste and the meat you have chosen. The Spanish house wine was a great accompaniment to our meal.
Location
Goodwin
TEXT JUKKA ARPONEN, PHOTOS ANDREI CHERTKOV
To learn more about this and similar topics