Freshly 'Woked'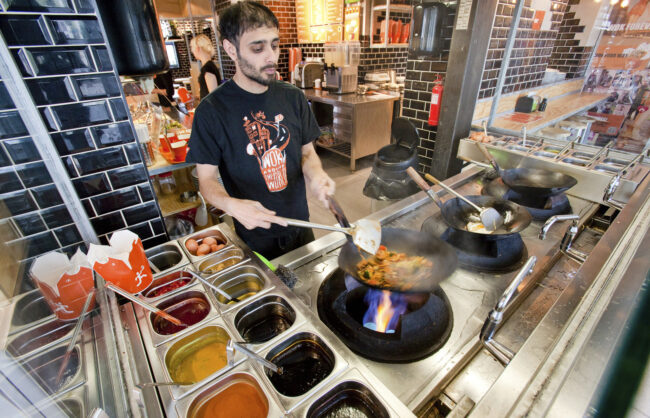 Asian fast food freshly made before your eyes at Wok to Walk in Tallinn's city centre.
The international chain Wok to Walk has over 70 restaurant worldwide. Your meal is prepared in three stages. First, choose either noodles, rice, or vegetables. There are many different kinds of noodles and rice. After, choose your protein: chicken, beef, pork, seafood, tofu or vegetables. You can also add things like garlic, nuts, or sesame seeds. And for the final step you choose your sauce. If you're looking for something spicy try the Hot Asia sauce.
Food is prepared right before your eyes, over an open flame in a wok. Raw ingredients are always fresh and local. Food is prepared within 15 minutes and you can enjoy it in the restaurant or as takeaway. It's also great value for money, portions are big and usually total to about €5-6.50. You can add chilli and soy sauce for no added cost. Soda, beer, and wine are available.
Wok to Walk is open Sunday to Thursday from 10.00 to 23.00; Friday and Saturday until 06.00. 
Location
Wok to Walk, Vana-Viru 14, Tallinn
woktowalk.com/et/

Click on the address to see the location.
TEXT TIMO HUTTUNEN, PHOTO ANDREI CHERTKOV
To learn more about this and similar topics