Fountain of Youth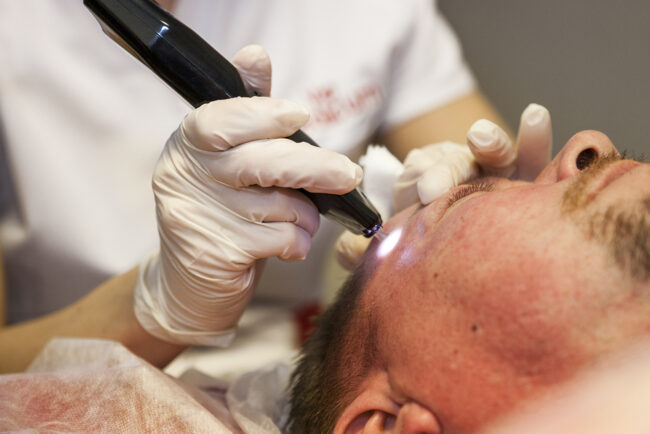 Modern anti-ageing treatments work both preventatively and repairitavely. vipMedicum will help you find what's right for you.
Everyone wants to look and feel younger. Anti-ageing treatments are just as popular among men as they are with women. Ilkka, our marketing manager at The Baltic Guide met with Julia Kudrjavtseva, the managing laser and injections specialist at vipMedicum who suggested two courses of action based on Ilkka's wishes to reduce lines, wrinkles and sagging in the cheeks. First, a full course of Affinity treatment followed by Aptos threads is what was recommended. Before and after photos were taken and the effects of the combined treatment is noticeable even after a few weeks.
Affinity Anti-Ageing Therapy
Affinity Anti-Ageing Therapy uses a one-time applicator to send a low level of acid solution (30% glycolic acid, 10% lactic acid) through the skin to stimulate regeneration. A full course of treatments can be from three to five visits with about two weeks between treatments. After one month skin is noticeably firmer. The treatment works with the Affinité machine where an electrode is placed on the shoulder and then a pulse is sent through the area being treated. The entire procedure takes about an hour as the skin is treated twice. The first round targets specific areas line by line and the second round has more of a vacuum feel and is applied more randomly. After the treatment a soothing mask is applied and by the next day redness is gone and makeup can be applied again. It's a treatment that is not only good for reducing the signs of ageing, but can be used to treat couperose, scars left by acne, and more. It can be used on the face, neck, and chest as well. The procedure is relatively pain-free.
Aptos Threads
Affinity was followed by the application of Aptos threads a few weeks later. Aptos are a minimally invasive face and body rejuvenation procedure that helps improve soft tissue contours, slows down the aging process, and is non-surgical, meaning there will be no scars.
Aptos are bioabsorbable threads that are placed under the skin to lift different parts of the face or body. A local anesthetic is applied to the area being treated, so pain is reduced, but the insertion of the threads can still be felt. After the 360 days, the threads are completely excreted. They contain L-lactic acid that adds to the rejuvenating effect and prolongs the absorption period. The threads have little barbs on them that help hold them in place. They can be used all over the body, to lift breasts for example. Some types of threads can be used to improve your complexion, or to fix a part of the face after a stroke or accident. What's great about these threads is that they are a good alternative to cosmetic surgery, with recovery time being quite short.
With Aptos, you will get excellent results without surgery, which you can see as soon as after the procedure and will continue to improve over the following 2-3 weeks. The results last for varying periods of time, depending on the material and the type of thread used. The best results come when they are applied with classical aesthetic operations and almost all cosmetology and therapeutical procedures (pilings, fillers, Botox injections). You don't have to wait to try this procedure, you can start at 30 and use it as a preventative measure against the signs of aging. Of course, as you age, it's a great alternative to plastic surgery.
Since 1996, Aptos has produced unique materials for aesthetic surgery and cosmetology. Their methods have gained world recognition and are now used by specialists in 48 countries around the world. Aptos' patented products and methods have been awarded international awards.
vipMedicum clinic offers a full range of cosmetic procedures for all types of problems. Their specialists are there to answer any questions or concerns you might have. Book a consultation to find the right course of treatment for you. 
Location
vipMedicum
Raua 36, Tallinn
www.vipmedicum.ee
Click on the address to see the location.
TEXT KRISTINA LUPP, PHOTOS ANDREI CHERTKOV, VIPMEDICUM
To learn more about this and similar topics