"Focus. Rya rugs" exhibition opens at Estonian Museum of Applied Arts 
Text Timo Huttunen
Photos Estonian Museum of Applied Arts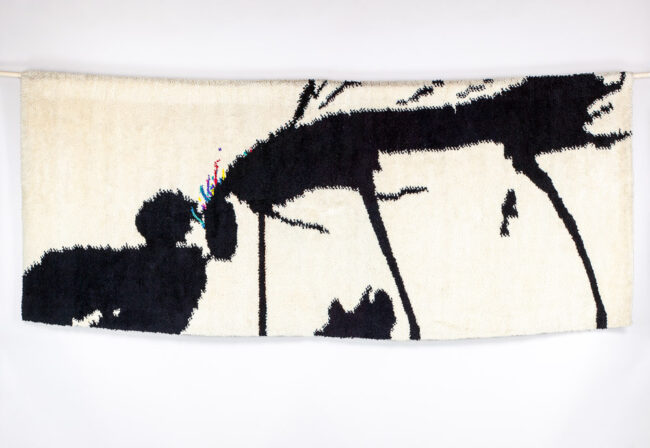 The "Focus. Rya rugs" exhibition, which opens on March 25 at the Estonian Museum of Applied Arts in the Old Town of Tallinn, focuses on the museum's rug collection. The hall on the first floor of the museum will display more than 60 rugs from ten Estonian textile artists.
"Rugs are an integral part of the Nordic identity," explained Kai Lobjakas, one of the curators of the exhibition. The specific focus of the exhibition is on rugs made in the 1960s, which make up the bulk of the museum's collection.
Rugs are an interesting part of Estonian textile art. They deserve to reemerge as examples of modern design language and as part of the Estonian art industry and design.
Today, rugs are getting more attention again as an easy-to-implement form of textile art that supports craftsmanship and recycling. Making them has become increasingly popular among designers who value recycling.
Ryijy became known as a form of artistic expression for the first time in Estonia in the 1930s. The technology came from Finland, where the tradition of making rugs dates back to the 14th and 15th centuries.
In the second half of the 1950s, rugs became one of the most popular forms of textile art. Long-haired, bold and brightly coloured rugs adorned many Estonian homes in the 1960s and 1970s.
"Ryijy offered an opportunity to break away from the severe post-war restrictions and mandatory forms of the post-war period. The rugs were freer, more picturesque and more abstract in form," says Kai Lobjakas.
"Visually, the rich heritage of rugs reflects modernity more broadly in the 1960s. The rugs also gained popularity through arts and crafts exhibitions and magazine articles," the curator continued.
The core of the textile artists who made the rugs were Mari Adamson, Leesi Erm, Ellen Hansen and Mall Tomberg. The 1970s monumental wreath series is from the legendary Bruno Tomberg. In the second half of the 1980s, Anna Gerretz brought rugs back in a whole new way.
The focus of the Estonian Museum of Applied Arts' rug exhibition is the 1960s and 1970s, but it also presents rugs from later decades.
"Focus" is a series of exhibitions at the Estonian Museum of Applied Arts that focuses on phenomena that have been obscured for a long time or have just been discovered in the museum's collections.






To learn more about this and similar topicsEstonia 1960s Estonian Museum of Applied Arts Estonian Rugs Focus Rugs Rug Rug Exhibition Ryijy Tallinn