Festive Favourites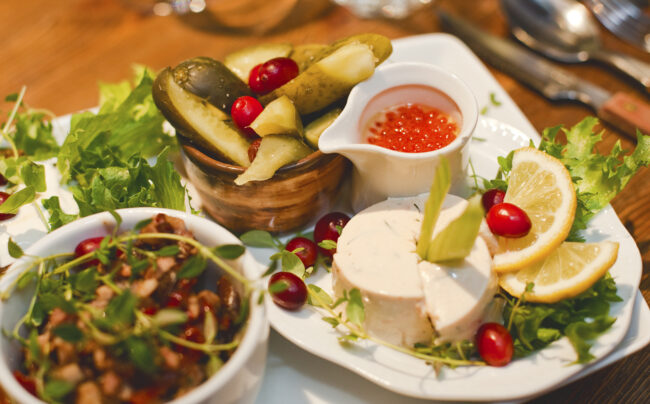 The Great Christmas Feast certainly won't leave you hungry
Enjoying a great meal in the company of a large group is the way it's meant to be.
Le Chateau, one of Tallinn's few French restaurants is offering a wonderful Christmas menu in its candle-lit cellar dining room. For groups of six or more, bookings must be made two days in advance and the menu is €40 per person. There are eight cold appetisers, warm dishes include blood sausage and pork fillets, as well as tilapia. Don't worry, vegetarians aren't forgotten either.
The festive evening is filled with the flavours, smells and colours of Christmas. The tasty salmon terrine with caviar sauce is luxurious and the baked cheese with herbed pepper sauce tickles the taste buds. The smoked cheese that goes with the main course, adds wonderful flavour to the soft pork fillet.. The Christmas spirit can also be found in the fish that is paired with apples and different spices.
Dessert comes in the shape of a Christmas pudding with a crispy almond crust, a wonderful end to filling meal.
Location
Le Chateau
Klikkaa osoitetta, jos haluat nähdä sijainnin kartalla.
TEXT MIKKO SAVIKKO, PHOTOS ANDREI CHERTKOV
To learn more about this and similar topics