Feelings & Scents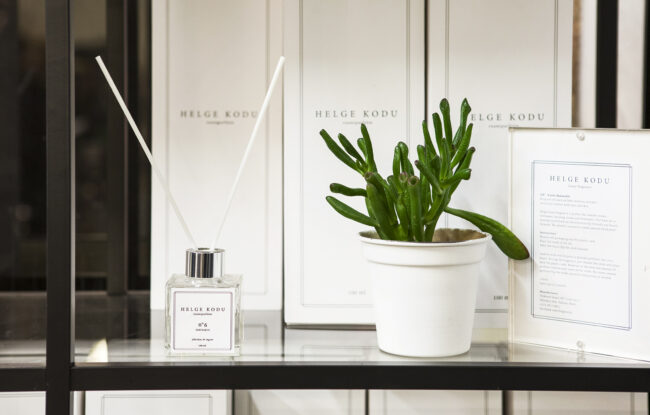 Helge Kodu – Fragrances for the home
Elena Volk tired of headache-causing home scents. In 2015, she started developing recipes for different scents with her friend, from which the Helge Kodu line of scents was born.
Now there are eight different fresh and light scents for the home. The special series includes scents like narcissus, ginger, sandalwood, jasmine, green orange, and coriander. In spring and summer the scents are lighter than those in autumn and winter which include more aromatic scents.
The scents and their timeless design are carefully thought out. Every scent has its own number and name. The names make these fun to give as gifts with names like Balance, Creativity, Adventure, and Perfection.
Scents love a clean room, suggest Volk. If a room is very dusty or dirty or filled with some other strong scent, then the room scent will not come through as strong. The same goes for the bottle, keep the top clean so no dust gets inside.
You can find Helge Kodu scents at Volk's own shop, Les Petites where there are over 60 designer's products from Estonia, Latvia, and Lithuania. 
Location
Les Petites, Telliskivi 60a, Tallinn
www.lespetites.ee
Click on the address to see the location.
TEXT SILJA HURSKAINEN, PHOTOS ANDREI CHERTKOV
To learn more about this and similar topics