Face and body beauty procedures without a surgeon's knife
Text Susanna Poikela
Photo vipMedicum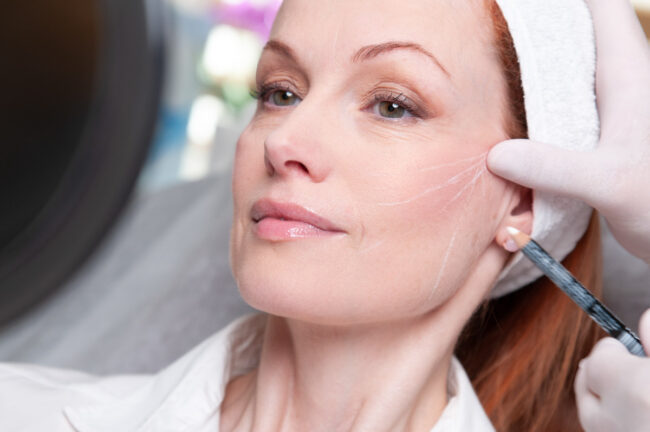 The thread insertion points are marked on the skin before the procedure.
Beauty clinic vipMedicum has been operating in Tallinn since 2008. The spa offers a wide range of facial and body treatments. The most popular treatments in the early summer are slimming treatments for the body.
Endospheres Therapy is a treatment for body modification based on micro-vibration and pressure. At the same time, it is also a muscle relaxing treatment.
"The endosphere therapy tightens the body, removes cellulite and accelerates lymphatic vascular function and superficial blood circulation. A series of six treatments guarantees the best results," says Veronika Tšatškova, Marketing Manager at vipMedicum.
Other in demand treatments include injection treatments, skin rejuvenating, moisturizing or wrinkle smoothing fillers, as well as laser facial treatments and hair removal.
Having a face lift with threads is also a popular treatment because of its ease, quick recovery and painlessness.
"The wires are applied directly into the skin to the areas of the face, neck and décolleté that need to be lifted, but also to other areas of the body. We use local anesthetic, so the treatment is painless," explains senior nurse Julia Kudryavtseva as she prepares to receive the next patient.
The treatment takes about an hour, and the cost is determined by the number of APTOS or mesol threads.
vipMedicum serves its customers in Estonian, English and Russian.
vipMedicum, J. Vilmsi 5 / Raua 36, ​​Tallinn.
To learn more about this and similar topicsBody Treatments Endospheres Therapy Estonia Endospheres Therapy Tallinn laser facial treatment laser hair removal Skin Treatments Slimming reatments vipMedicum