Estonian Sound that Affects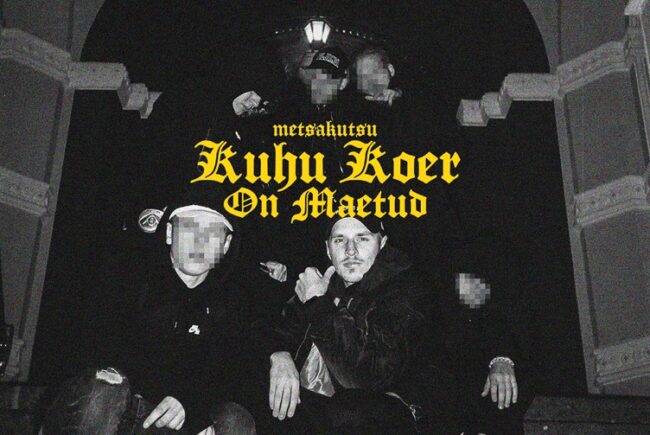 The Estonian music market might be a small one, but that doesn't mean there aren't many artists who should be grabbing your attention. As the Baltic Guide seeks to bring you the very best of Estonia, we think that you ought to seek out these albums, all of which can be found either on Spotify around the world, or at music shops like Lasering, along with large branches of Rahva Raamat and Apollo in Estonia.
If these albums get your interest, we also recommend you hot-foot it to the coolest independent record store in Tallinn, Biit.Me (Pikk 9, Old Town), where vinyl and digital curiosities from every genre await you.
Let's begin with the new album from arch, rebellious Estonian rapper Metsakutsu, Kuhu Koer on Maetud, which plays like a call-to-arms for disaffected people from start to finish, with hip-hop anthems like single cut Ära Mine Närvi (Don't Get on My Nerves) showing invention and controlled aggression, while also maintaining a sense of fun. Estonian rap has many emerging stars, with Reket another you should take a look at. Although these guys rap in Estonian, anyone can appreciate the rhythm in their poetry.
Another Estonian-language star, in fact probably the biggest of all at the moment, is 2015 Eesti Otsib Superstar (Estonian Idol) winner Jüri Pootsmann. You'll remember Pootsmann from his problematic performance at Eurovision 2016, where his song Play seemed overshadowed by attempted on-stage trickery, but you really ought to dive deeper with him, because this is no shallow pop star backed by a big-money machine – Täna, Pootsmann's debut full-length album, is underpinned by a real talent.
Pootsmann's greatest weapon has always been a syrupy baritone, which can be used either to urge or to persuade. He does both on the album's ten tracks, which build on the promise of his 2015 self-titled debut. The smartly-dressed crooner is at his best when he's allowed the chance to labour luxuriantly on his syllables, as on opener Otsin Sind Homme, a song that allows Pootsmann to paint his voice romantically over a lush soundscape reminiscent of Glasgow '80s soft-pop trailblazers like Prefab Sprout and The Blue Nile. The harmonies there and on later track Tuleta are straight out of the playbook of another great melody-band, Deacon Blue.
Elsewhere, Pootsmann tries to funk it up, perhaps at the suggestion of his record company, and it's with mixed success that he does so. The title track of Täna aims to sound like a Justin Timberlake-style call to the heart, but comes across as trying a little too hard for its own good. Meanwhile, Loving Arms, the album's only English-language song, seems like an anomaly next to such an otherwise high-quality collection. Nonetheless, this is an album with lush production and accomplished songwriting and singing.
If your tastes are a little more abrasive, or you used to like the Foo Fighters and Muse before they both went soft and sold out, you'll go mad for experienced rockers Elephants From Neptune's latest release, Oh No. As the title suggests, this is a playful English-language album, and it's carried along by a rush of anthemic guitar work that we're often told has gone out of fashion, but will never go out of style. Elephants, together since 2010, get better and better with each passing year, and tracks like Huntin' Cobras deserve to take the band's chunky garage rock into the arena.
Sometimes the varied palette of jazz can bring the deepest of emotions to the fore, a fact confirmed by the debut from Gretagrund, Püsimatu Hing. Vocalist Maarja Aarma and pianist Britta Virves are said by the experts at Tallinn's Philly Joe's bar to be among the best rising stars  in the national jazz scene, and they're supported by a band that keeps the sound loose and delicate enough for all manner of feelings to bubble to the fore over the listening time. Final track Kaugis. Ruum is a sad reflection from a person who feels left behind, and it's among the highlights of this amazing debut. For more on Gretagrund, take a look at my feature on the band from 2016, in which they talk through the album track-by-track (http://charmoffensive.ee/blog/2016/6/17/gretagrund-interview). 
TEXT STUART GARLICK
Click on the address to see the location.
To learn more about this and similar topics