Estonian scientists make it to the finals of the prestigious global competition with salmon fillet made from peas
Text Mark Taylor
Photos Siim Vahur, ACUBE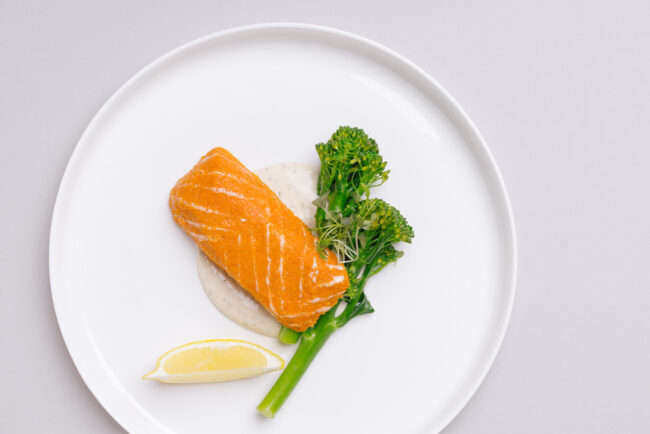 Scientists from the Estonian Center of Food and Fermentation Technologies (TFTAK) have made it to the final six of the prestigious global XPRIZE Feed the Next Billion competition with their plant-based salmon made from pea proteins.
According to Dr. Sirli Rosenvald, Head of Meat Alternatives and Plant Proteins at TFTAK, reaching the final stage of the XPRIZE competition is a tremendous recognition for their scientists' work as they compete against five other teams for the $15M prize.
"For the last few years, we have been developing technologies in the TFTAK research laboratory to create textures from plant-based protein that imitate various animal-based foods. We have already brought several plant-based minced meat products to market and are now focusing on the more complex challenge of developing fillet products. We have taken a step forward by creating a pea protein-based product that has a texture similar to salmon fillet," said Rosenvald.
As demand for meat increases with the world's growing population, the XPRIZE Feed the Next Billion prize seeks to find more sustainable and versatile alternatives to meat products capable of competing with conventional products on the market.
"We are genuinely happy and proud of reaching the finals. Competing with the world's top food innovators and being among the final six shows the excellence of our researchers and the research facilities," said TFTAK CEO Martin Lall.
Rosenvald's research group, which consists of six young and dedicated Estonian food scientists with an average age of 30, submitted an application for the XPRIZE competition in December 2020, and the final of the event will take place next year.
TFTAK's goal is for the salmon fillet alternative created as a result of the competition to come to market as a real product, under the brand of either a local Estonian or foreign company.

To learn more about this and similar topicsMeat Alternatives Pea Protein Plant-Based Plant-Based Salmon Science TFTAK XPRIZE