Electromagnetic: Modern Art in Northern Europe, 1918-1931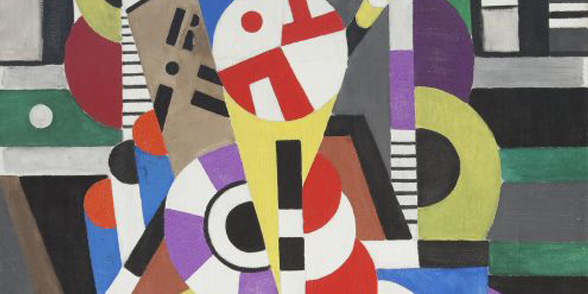 When we think of the 1920s, images of flappers, lavish parties, and the decadence of F. Scott Fitzgerald's The Great Gatsby often come to mind. Here in Estonia, we also think of the 1920s as the first decade of Estonian independence and the emergence of a modern national culture. Despite the fact that many countries were born in the wake of World War I, it was the search for a universal truth that went beyond newly created international boundaries, which united many artists and cultural figures in young republics like Estonia, Finland, and Latvia. One of the latest exhibits to open at KUMU Art Museum in Kadriorg, "Electromagnetic: Modern Art in Northern Europe, 1918-1931," showcases just that—the unity in the creative impulses of artists from Denmark, Estonia, Latvia, Lithuania, Norway and Sweden, and these artists' importance in the international avant-garde.
This exhibit is pioneering in that it displays works by 1920s Baltic and Scandinavian artists side by side, with no obvious distinction with regard to the artist's nationality. Such a display method dispels any preconceived notion of the quality of the works and maintains the artistic integrity of the paintings. Rather than imposing overarching or categorical themes, the exhibit instead celebrates the individuality and singularity of each artist's creative endeavours with abstract painting.
Since these paintings are abstract, they are not always understandable at first glance. Instead, these paintings require you to think about what you are actually looking at. While historical context provides an important backdrop to understanding the exhibit, the display is also about engaging you, the viewer, with fundamental questions of art-making: What is art supposed to look like? What do you expect from an artwork?
 There are, of course, some cons to the exhibit. Finnish artists are clearly and curiously absent. In addition, the majority of the works by Estonian artists is not exhibited with the others, but rather remains in its normal location in the permanent collection on the opposite side of the third floor, disturbing the flow. Nevertheless, "Electromagnetic" is an electrifying exhibit and one you certainly do not want to miss! The exhibit is open at KUMU until 18 May 2014.
Text: Bart C. Pushaw
Image: Thorvald Hellesen Painting 1920. Photo: Øystein Thorvaldsen
Bart C. Pushaw is a Fulbright Fellow and PhD student in art history at the University of Maryland.  Currently he is based in Tallinn, where his research focuses on Scandinavian and Baltic modern art.
To learn more about this and similar topics