Eesti Söögituba (Estonian Dining Room)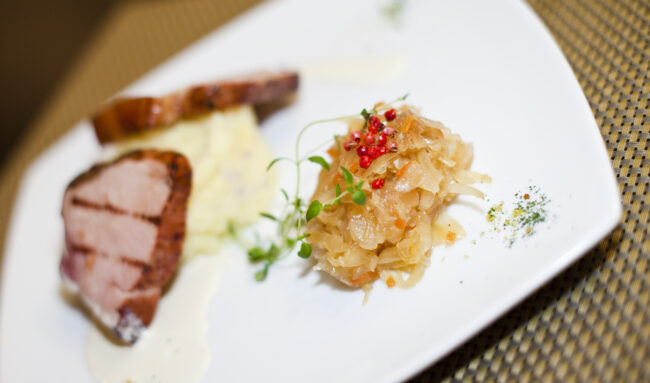 eesti söögituba, estonian cuisine, modern, traditional, pork roast, herring, old town, tallinn, meriton
This relatively new addition to the list of Estonian restaurants in Tallinn has all of the basic Estonian staples covered. What was truly great about the dishes at Eesti Söögituba, was that they came in manageable sized portions, meaning you will have room to try a few different dishes, or even have dessert.
Try the Baltic herring and redonion tartar with crispy bread to start, or the Estonian black pudding with lingonberry remoulade. As a main course, you can't go wrong with the juniper-smoked pork with honey cabbage, potato groats porridge and mustard sauce.
To drink, the naiste õlu, or ladies' beer comes served with a bit of Vana Tallinn liqueur mixed in.
Location
Pikk 29, Tallinn Old Town G2
www.meritonhotels.com/eesti_soogituba/
To learn more about this and similar topics