Coffee and Pastry – The bakeries of Tallinn
Text Mark Taylor
Photos Sander Allmere, Mark Taylor, Peeter Veltmann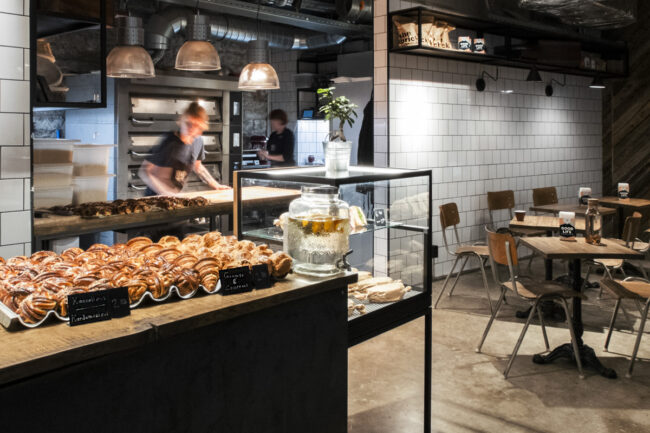 Enjoy a coffee and pastry at RØST while watching the bakers in action.
RØST
RØST, located in Tallinn's Rotermanni Quarter, has quickly risen to become one of the most popular bakeries and cafés in the city.
However, the original idea for opening a bakery and café began back when co-owner Sander Allmere was back in university. It was his time as an exchange student in Sweden, though, that cemented the kind of bakery he wanted to open.
After nearly ten years working in the tech sector and putting money aside each month with his girlfriend they found the perfect location.
"Rotermann was not developed back then, we wanted to have an authentically old place, with an industrial feel. Somewhere that would feel like it has been open for decades," explained Allmere.


When RØST opened in 2017, money was tight, and they were unable to advertise. Fortunately, people began to discover the new bakery very quickly. "Our turnover doubled each week in the first few months and we were able to pay off all our loans within a year" adds Allmere.
Today, the café, where everything is baked on-site, is well-known for its cinnamon and cardamon buns, and sourdough bread, but it is equally popular for its coffee, which is sourced from Scandinavian roasteries.
In total, the bakery sells about 8-10 different pastries, but Allmere states that there is one they have sold from the beginning that he believes is not as popular as it should be.
"Our cheese buns use an excellent expensive cheese (an old gouda from the cheese shop across the street) are the last thing that sells out each day, but we like it and no one else does it."
The café, which is open till 6 pm on weekdays and till 5 pm on Saturdays, aims to have sold everything before they close each day.

Pagari-Liisu
The story of Pagari-Liisu is a much older one, dating back more than 30 years to the end of the Soviet times. When Liis Veltmann had a chance meeting with West-German pastry chef Klaus Schostakit. Fascinated by his bakery and after years of dreaming of having a café and making cakes at home for friends and family, she returned home ready to open a bakery.
The first café was located in the old Tallinnfilm offices opposite Niguliste church in Tallinn's old town, where Liis had spent many years working as an editor and director.
Although the café in old town no longer exists, the Veltmann home has changed considerably. Where baking started in one tiny room of their basement, it has now expanded to the entire bottom floor of the property.
Her nephew Peeter Veltmann, who also works for the bakery, spoke of some of the struggles in the early days. "We make a cherry strudel that is very popular. When they started the oven was only able to fit 7 at a time, meaning the bakers had to work long hours to meet the demand of more than 70 a day."

Today, at Pagari-Liisu you can get vegan and gluten-free baked goods along with popular Klaus cakes (named after Klaus Schostakit), a Napoleon cake made with crispy layers and buttercream, rhubarb cake, and more that have been on the menu since the beginning. You can even order online and get them delivered anywhere in Tallinn
All of the cakes and pastries at the bakery are made entirely by hand and to the same recipes. "The best compliment is when people come back after 10-20 years and say that the product tastes exactly like they remember," said Peeter proudly.
There are many other bakeries in Tallinn, all with their own specialties including:
Pagari-Liisu, Vana-Veerenni 7.
To learn more about this and similar topicsBakery Bread Café Cake Coffee Pagari Liisu Rost Tallinn