Christmas Market Joy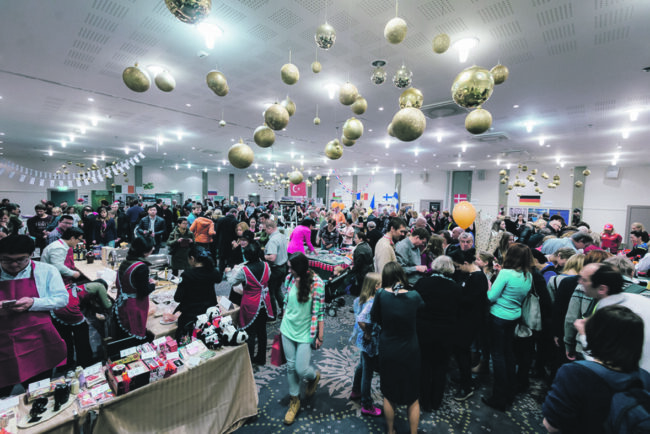 Get into the holiday spirit while getting your shopping done early!
The 2016 International Christmas Bazaar organised by the International Women's Club of Tallinn will be held on Sunday 20 November from 11.00-16.00 at the Radisson Blu Sky hotel on Rävala pst in Tallinn. This year, 26 embassies are participating and will be selling specialities from their home countries. As always there will be interesting items for sale at the Silent Auction and great prizes to win at the Tombola. Entrance is free!  Proceeds from the Bazaar will go to support charities throughout Estonia.
Christmas Village at the Estonian Open Air Museum
17-18 December
Vabaõhumuuseumi tee 12, Tallinn
evm.ee/est/avaleht

Christmas is a magical time and Christmas at the Open Air Museum is even more special. There, you can learn about old traditions while wandering through old barn-dwellings and farm houses, the schoolhouse and village shop. Every building has its own story to tell, which only becomes apparent upon entering. The village inhabitants, dressed in period clothing, talk about everyday life and traditions.
St. Martin's Day Fair
10-13 November
Saku Suurhall, Paldiski mnt 104b, Tallinn
www.sakusuurhall.ee/xx-(mardilaat)&mid=294&lang=eng

Mardilaat (St Martin's Day Fair) has been held in Tallinn since 1997 and is the largest of its kind. What was once a simple handicrafts fair, has now become a wonderfully diverse folk culture event held by the Estonian Folk Art and Craft Union. Browse and buy handicrafts while talking to the craftsmen themselves. This is where old St Martin's day rituals are revived. Take part in workshops for both children and adults, and enjoy some wonderful food too.
Christmas Market in Town Hall Square
18 November – 7 January
Town Hall Square, Tallinn Old Town
www.christmasmarket.ee
The Christmas market is known for its small wooden huts filled with handicrafts, clothes, and more. Find unique gifts to fill your stockings, like jewelry and ceramics. The smells of gingerbread, glögg, and other treats fill the square. Glögg and mulled wine are available with or without alcohol, or with different flavours like sea buckthorn or blueberry. Be sure to try traditional Christmas sausages (black pudding) with sauerkraut. Enjoy cultural programmes including children's choirs and folk dancing. Visit Santa and his reindeer too! The Christmas tree in the centre of the square is truly impressive. It's over 20 metres tall and has been brought to the square every year since 1441. Some say it was the first of its in Europe.
Tallinn Handicraft Fair
2-4 December
Tallinn Song Festival Grounds, Narva mnt 95, Tallinn
www.xn--tallinnaksitmess-3nb14aa.ee/?page=3

Peruse local and traditional handicrafts like knitwear, ceramics, candles, jewellry, and more. And don't forget about the wonderful foods prepared by local farmers and other small producers.
Click on the address to see the location.
TEXT KRISTINA LUPP, PHOTOS RENE RIISALU, ANDREI CHERTKOV
To learn more about this and similar topics