Chef Manu's double-decker English bus is now an on-demand restaurant
Text Timo Huttunen
Photos Emmanuel Wille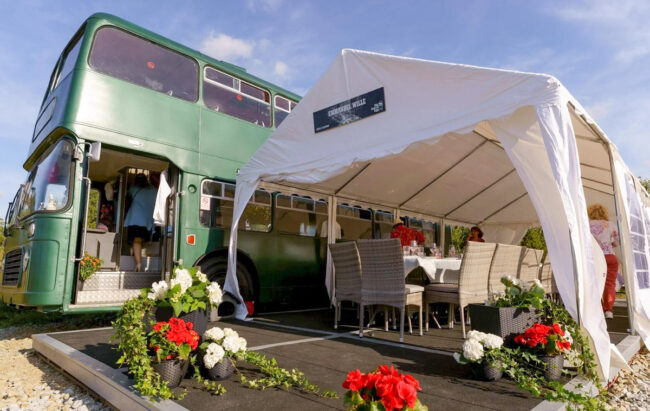 Top Belgian chef Emmanuel Wille, who has lived in Estonia for years, opened a take-out restaurant in an old double-decker English bus about 30 kilometres from Tallinn. The restaurant is located in the village of Ruu, in Jõelähtme municipality.
Emmanuel Wille, Manu in Estonian, is the owner and chef of the restaurant. He has been a chef for over 30 years. Manu has worked in the best restaurants in Belgium, served Princess Liliana of Belgium and directed Bocuse d'Or Estonia, i.e. the Estonian chef team in the international gastronomy competition. In addition, he has managed the kitchens of top Estonian restaurants for years.

Double-decker restaurant bus
The Double Decker was built in 1978 and ran on the streets of London for many years. Wille found the bus, bought it and transported it here to Estonia.
The bus was renovated for two years. The second floor of the bus was turned into a dining hall. The first floor was completely rebuilt, and professional kitchen equipment was installed.
Catering according to the event
The operating concept of the restaurant is to make events at Emmanuel Wille's bus and on the garden's covered terrace effortless and high-quality. Groups can also enjoy unique dining experiences.
For example, visitors can choose whether à la carte dishes or a buffet table are offered at the event. Gourmet food is available, but burger parties can also be organized. The Double Decker can serve groups of up to 25 people.
Most of the raw materials used come from Manu's own garden. The staff speak Estonian, English and Russian.
There is free parking in the area, and pets are also welcome.
You can get more information here.
To learn more about this and similar topicsBocuse d'Or Viro Bus Double Decker Emmanuel Wille Jõelähtme Manu Ruu