Cheers to Summer 2014!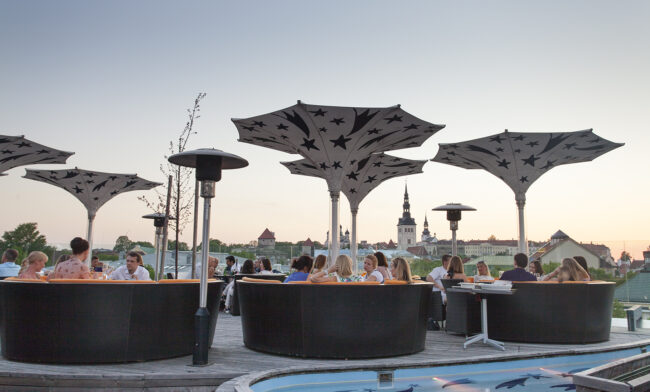 The big wait is finally over – summer is officially here. The weather is getting hotter and so are the parties all over the town! It's time for some outdoor activities and to have a drink on a terrace while enjoying a warm summer night. Here is a little list of Tallinn's hottest outdoor terraces:
TELLISKIVI LOOMELINNAK
(or in English "Telliskivi Creative City") is a set of eleven different buildings and a total surface area of 25,000 m2, located between the city centre and northern suburbs of Tallinn. After enjoying great food or drinks in one of the many summertime gardens, there is lot more to do to keep the groovy vibe this place offers going. Many regular events take place in the area: markets, workshops, comedy nights, concerts, parties, and even some events for children.
KATUSEKINO KOHVIK
Katusekino or the rooftop cinema above Viru Keskus has opened again for the fifth year in a row. This year's programme promises something for every film lover. There will be a wide selection of different genres, as well as new and older films. You can read the full programme online. For the second year in a row, Katusekino has paired with MoMo to bring cinemagoers a wonderful Japanese menu. The MoMo kitchen is open daily for lunch (12.00-15.00, weekdays only) and dinner (from 20.00). Due to the short nights of the northern European summer, the films start late (23.00-24.00 in June), after the sun has set. Enjoy the film while relaxing on comfortable deck chairs, and don't worry if it's a little chilly, the cinema provides blankets.
Viru Keskus, 4th floor rooftop terrace, Viru väljak 4/6, Tallinn
Mon – Friday 12-02, Sat – Sun 17-02.
■ KOMEET
Komeet is located at the top of the Solaris shopping centre. It provides 120 seats, and delicious food combined with a really nice atmosphere and view. People often go there to just enjoy cup of coffee and a slice of freshly baked cake. Wednesdays and Fridays are the days when special events take place. Starting in the evenings and lasting to the early morning hours, the rooftop terrace turns into terrace-discotheque with free entry.
Estonia pst. 9, 5th floor, Tallinn
■ LOUNGE 24
With its unique view of Tallinn, Lounge 24 is definitely a rooftop terrace worth a visit. It's located on the 24th floor of Radisson Blu Hotel, or 90 metres above street level. When it comes to food, some people even say that the Caesar salad there is the best in town. Creative cocktails can be also be ordered. It's a really popular place among locals, as well as hotel guests.
■ VARBLANE
Located in the centre of town, next to Freedom Square, Varblane is one of those places where you can really sit back and relax. Have something to eat from the grill, salads, sushi, snacks or a dessert. It's one of the city's most popular meeting points for people to have something to drink and a Hookah before hitting the clubs. But, if you're having fun, just stay there until the sun rises, enjoying fresh summer breezes, music and the relaxed atmosphere this place has to offer.
Harju 6, Tallinn Old Town 
Gig Guide    
■ Sigma @ Club Hollywood (Vana Posti 8, Tallinn Old Town I2, 12.06.2014, tickets start from 5€)
■ David Guetta @ Tallinn Song Festival Grounds (Narva maantee 95, 13.06.2014, tickets start from 49€)
■ RobertPlant@SakuSuurhall 
Arena (Paldiski maantee 104B, 16.06.2014, tickets start from 49€)
■ Tom Jones @ Saku Suurhall Arena (Paldiski maantee 104B, 17.06.2014, tickets start from 39€)
■ Tallinn Star Weekend Rock Day: The Offspring, Lordi, 2 Cellos  @ Tallinn Song Festival Grounds (Narva maantee 95, 27.06.2014, tickets start from 39€)
■ Tallinn Star Weekend Red Carpet Day: Andrea Bocelli @ Tallinn Song Festival Grounds (Narva maantee 95, 28.06.2014, tickets start from 49€) 
To learn more about this and similar topics