CHEERS TO A HAPPY NEW YEAR!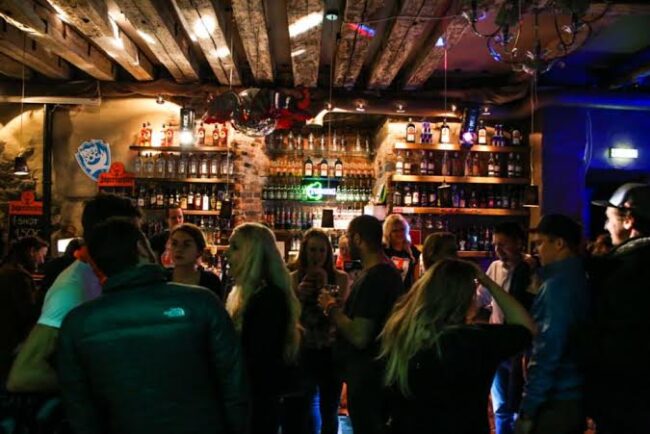 December is one of the most beautiful months in Tallinn. You can warm yourself up with mulled wine or elk soup at the Christmas market; cosy little pubs welcome you to meet new people. At the end of the month the biggest party of the year takes place. Here is a little list of New Years Eve parties in Tallinn where you can raise your glass to a new year and new resolutions!
STUDIO
One of the most popular nightclubs in Tallinn, Studio, has quite a busy schedule planned for New Years Eve. On that night DJ David West from Sweden and famous local DJs Jaan Jaago, Muudu, and Critikal will be spinning records and making the whole house dance. If you are a big RnB, house, and new and old urban music fan then Studio will guarantee that the new year will come with a bang! Sauna 1, Tallinn Old Town
CLAZZ
Clazz implies class but they are not too serious about it. That is definitely true because for New Years they have planned a big 70s theme party. Fabulous flower patterns, flared pants and a carefree attitude are the tags for the night. The ticket price might be a bit steep but it includes a five-course meal and entertainment for the whole night. If you want to make your New Years Eve memorable then sweep the dust off your Afro wig and book your table early! Vana turg 2, Tallinn Old Town
PRIVE
Club Prive's New Years Eve party is called "Cashback 2014" and at 3 a.m. "a Lucky Cash Canon" will blow 2000 euros into the crowd. Their parties are known for glamorous crowds and superb music. As always champagne will be flowing and beautiful dancers will give you their best performance. There are also VIP tables (and even VIP rooms) available so make an early reservation because this is a party you don't want to miss! Harju 6, Tallinn Old Town
CLUB HOLLYWOOD
Club Hollywood plans to welcome the New Year with a party that you will remember throughout the next year! DJ Kristjan Hirmo and DJ Kert Klaus will spin records; the club will be full of beautiful dancers and drum girls; you can try your luck at the wheel of fortune, and video- and special effects create mystic vibes. There's only one rule-go wild or go home!
Vana-Posti 8, Tallinn Old Town
SHOOTERS
Shooters, one of the wildest shots bars in Tallinn, plans to have another crazy New Years Eve party. DJ Mike Sugar will make you dance Clazz and raise another shot glass to a new year that will bring us everything we have ever wished for! Shooters is a bar for people of any age and it's not a bar in which to spend a quiet night. Shooters is a bar for new friends and unforgettable nights that turn into mornings!
Suur-Karja 4, Tallinn Old Town
AMIGO
The friendliest nightclub in Tallinn welcomes everyone to their wild New Years celebrations! Karl-Erik Taukar, a singer who made all Estonian women sigh for a moment, will be performing with the show "A tribute to Robbie Williams". Tickets are available only on the spot so line up early and sing along to all the best hits!
NYC PIANO BAR NYC
Piano bar is a fresh and cool place in the Old Town with great music, amazing food and refreshing cocktails. The mission of the bar is to give a little bit of the Big Apple's mystery to Tallinn and the New Years Eve party will be glamorous and fancy – just like in NYC. Oliver Holland is the guest vocalist-pianist from Britain, so take your glass of sparkling wine and enjoy some big city charm!
Vana-Posti 8 , Tallinn Old Town
SINILIND
Sinilind is a little vintage style cafe/ bar with interesting soviet detailing. Their New Years Eve party is called "Big Bang 2014" and there will be many different Estonian performers to create a cosy atmosphere. Sinilind is known as the place for bohemians and artsy people so if you're looking for something diffe- rent then welcome in the New Year with a big bang!
Müürivahe 50, Tallinn Old Town
To learn more about this and similar topics