Born to cook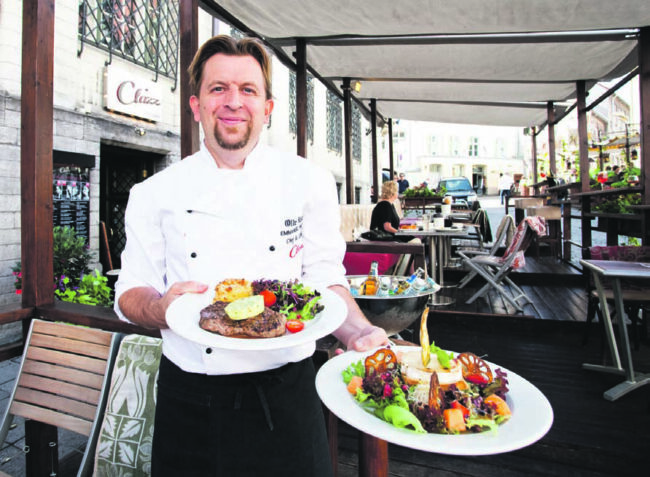 Born to cook
At the moment this professional chef runs the kitchens of Olde Hansa, Clazz, and Glad Estlander. Born in Brugge, Wille was already interested in cooking from a young age. He said that by the age of six he was already baking and cooking.
"I started going to cooking school when I was 12, and at the same time I began working. In the beginning I worked without pay, and by the time I was 13 I went to work in a professional kitchen. I started as a dishwasher but paid attention to what the cooks were doing. Slowly I began with simple baking tasks, and after awhile I was given more complicated duties."
Manu began earning a wage when he wanted to buy a motorcycle. "I worked for free while I was going to school, but then I wanted to buy a motorcycle and I got money from the restaurant owner. I finished my school exams with very good marks, and I was offered a full time job at the restaurant for my good work."
In his home country, Manu worked in many different restaurants, including one with a Michelin star, where he learned the foundations of French cooking.
Manu first came to Estonia ten years ago. Since then, Estonia has kept him employed in some top restaurants. "I first started working at the Roosikrantsi restaurant and I have also worked at Gloria and Charitali. I have learned something new at each one."
The owner of Olde Hansa, Auri Hakomaa, drew Manu to his current position. "Auri called and offered me a job just at the right time. I was just about to start my own business when I thought that I could wait six months and work for Auri. It has been a few years now and I must say that I am very satisfied with my job."
Running three kitchens does not come without problems. "I am like a conductor and the back up person for the cooks. I guarantee the quality of the food portions and help the cooks if they have any problems. It's important that the food arrives quickly to the customer without its quality being compromised."
"At the same time it is also my job to come up with new ideas and listening to those of the owners. Olde Hansa is a medieval style restaurant, and the menus have not changed that much over the years. At Clazz it is important that the food and music compliment one another, as well as the drinks. At Glad Estlander, the menu must showcase true Estonian flavours, because Estonian cuisine has been heavily influenced by its neighbours."
In all three restaurants one of the most important tasks is the procurement of ingredients. "We use as much local produce as possible. About 80€ of our ingredients are from local producers, but for example it can be very hard to find good quality meat. In Clazz we use beef fillets that come from Australia, but the hamburger meat is from Livonia."
Manu is often asked what his favourite food is: "My tastes chan- Outside on the Clazz patio, Manu shows off his plates. ge. In the summer I prefer light salads and fish. In the winter I like heavy soups, like the Estonian pea soup that is a great winter food. Slow cooking is my preferred method of cooking. At Olde Hansa, many of the dishes are braised slowly and marinated for many days. In our other restaurants we prepare many of the sauces in the same way."
TEXT JUKKA ARPONEN, PHOTOS ANDREI CHERTKOV
To learn more about this and similar topics