Beer lovers unite!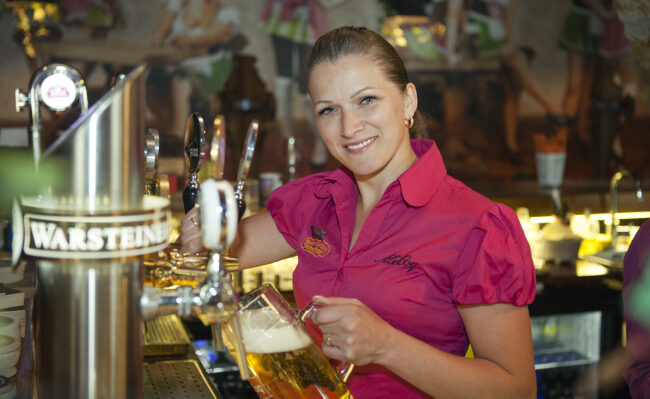 https://www.google.ee/maps/place/Aia+10/@59.4383689,24.7518926,17z/data=!3m1!4b1!4m2!3m1!1s0x469293610d7c84f5:0xf9661d66064f1895
Tallinn's Beer Garden is about not only beer, but great food too!
Beer Garden is not your run of the mill sports bar, though you can watch sports there. Time and effort has gone into choosing the over 100 beers they serve, and in designing a menu that can be paired with these beers. "Beer, like wine, can be tasted and appreciated", says Mirelle Sepp, manager at the Beer Garden. "When you come you to visit us, you will be asked, not what you want, but which beer you would like".
The beer list is divided up by type of beer: lagers, ales, stouts, fruit beers, and so on. They even have a champagne beer on the menu. Beer Garden wants to educate the customer in all things beer, so in addition to their food menu, they also offer a few sampling platters, to show you just how well beer can be paired with food. Take for example the cheese platter; this comes served with different fruit beers, as well as the champagne beer. You can even order a platter of oysters along with your stout.
On my visit, I decided to try the goat's cheese salad to start, followed by the BBQ chicken. Portions are not stingy; in fact, the salad could be considered a meal in itself. The mix greens were tossed with different seeds and nuts, and the cheese was baked and served with sweet jam on top. The main course, the chicken was a half roasted chicken served with Beer Garden's own house made bbq sauce. I particularly liked the addition of caraway seeds to the sauce, which added a bit of Estonian flavour.
Mirelle helped me choose different beers to be paired with my meal. She suggested the Belgian Stella Artois (served on tap) be paired with the salad, as the lightness of the lager would compliment the jam-sweetened cheese nicely. The chicken, because of the rich flavours from the bbq sauce, called for a stronger beer. Mirelle suggested the Estonian A. Le Coq Imperial Ale (in bottle). Its richer flavour suited the spiciness of the roasted chicken.
Sit indoors, or if the Estonian summer weather allows, outdoors on their small street-side terrace. While there is ample seating on both the main floor and in the wine cellar, if you plan to come with a large group, it is best to book ahead.
Location
Beer Garden
Aia 10/Inseneri 1 Tallinn Old Town
TEXTKRISTINALUPP,PHOTOSANDREICHERTKOV
To learn more about this and similar topics