At the end of Kopli tram line you'll find a hidden bohemian area and the cultural centre of northern Tallinn
Text and photos Susanna Poikela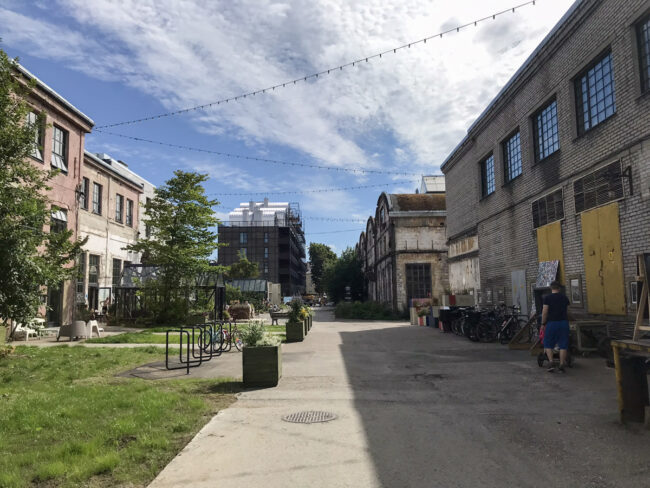 The bohemian boutiques of the former Põhjala factory
Numerous entrepreneurs in the creative field have found a home in the former Põhjala factory buildings located in the residential area of Kopli in northern Tallinn. Restaurants and bars, a coffee roaster and a bakery, as well as design stores and studios, offer their products and services on the bohemian site. Various events and festivals are also regularly organised in the halls and courtyards of the former factory.


A bookstore and cafe under the same roof
Põhjala REaD, Tallinn's most individually decorated bookstore, opened its doors in May of this year at Ankru 10. The coffee shop Kiosk nr 3 also operates in the same premises. The other kiosk cafes, Kiosk nr 1 and Kiosk nr 2, can be found in Snelli park and the Old Town. You can immerse yourself in the bookstore's comfortable armchairs and enjoy the smell of the old books and freshly brewed coffee and take in the relaxed atmosphere of the place. The cafe also has an area suitable for remote working.

Põhjala garden is a paradise for urban gardeners
The cosy community garden is open to everyone. In the garden, in good weather, you can take a nap in the hanging swing, throw yourself on the straw to enjoy the sun and the greenery of the surrounding plant beds, feed the chickens or admire the abundant harvest in the greenhouse. However, the fruits and vegetables should be treated with respect and left to the owners of the plots.
Kopli Kasepark has fun for the whole family
Near the former Põhjala factory site, opposite the tram stop, is Kasepark ("Kopli Birch Park" in English), which was renovated a few years ago and has many different seating places, a fitness area, ping-pong tables, a skate park, a basketball court and a playground for children, as well as two spacious dog parks.
Põhjala tehas, Marati 5, Tallinn.
To learn more about this and similar topicsKasepark Kiosk nr 3 Kopli Põhjala Factory Põhjala REaD põhjala tehas restaurant