An entire world for children, and parents too!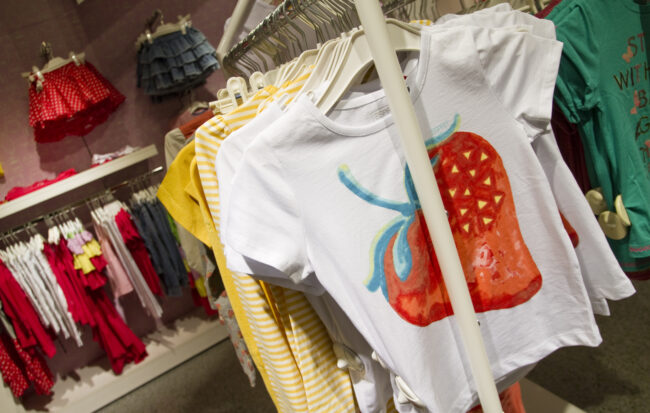 An entire world for children, and parents too!
Use the lift in the Viru Centre, located on the second floor of the women's department to get to the children's department.
The fourth floor has new and old well-known brands. To get around easier, families can get strollers or shopping carts for younger children near the feeding and diaper changing room. The room also has a microwave and various sizes of diapers. To accommodate children, there are low sinks and toilets.
The fourth floor there is also a children's hairdresser, where tablets are attached to the mirrors to entertain the young clients. On the same floor, enjoy the playroom of the favourite Estonian cartoon character Lotte. Children can be left in there for one hour freeof- charge, provided that you can show a same day purchase. From there you can then visit the newly renovated women's department. In the children's play room, children can also try on clothing in the fitting rooms.
The children's clothing floor is designed like a city, where the "streets" are lined with "houses" of various brands of clothes hanging on trees.
There is a clock tower between the first and second level of the children's department that kids can climb up. Up on the fifth floor of the Department store are games, developmental and educational toys, equipment for very young children, soft toys, game tables, computer games, and a carousel. For older children there is different spy equipment available including listening devices.
There is an international representation of brands of toys, as well as new brands like Eastcolight that produce a variety of resources for young scientists. For roleplaying there are kitchens to plan and remake and for theatre lovers there are finger puppets and costumes available.
On the fifth floor, take a break after shopping in the ice cream café. In the children's department, there are special events planned on Saturdays. The staff are always happy to help. Malle Grünberg, who in Estonia is well known in her field, designed the colourful fifth floor.
Location
Tallinn Kaubamaja 4th and 5th floors. The entrance is through the second floor of the Viru Centre. Kaubamaja, Gonsiori 2, Tallinn.
TEXT MIKKO SAVIKKO, PHOTOS ANDREI CHERTKOV
To learn more about this and similar topics