ADVENTURES in Tallinn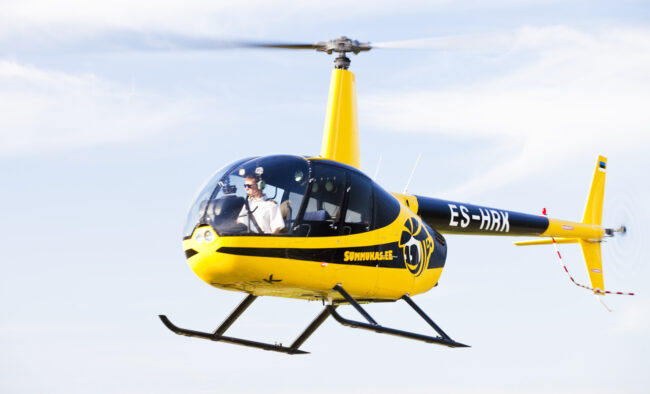 Get your friends together and go for a walk in the trees, take a hot air balloon ride or rock climbing.
The number of activities in Tallinn continues to grow. For example, walk along the edge of the viewing platform of Tallinn TV Tower, take a ride in a hot air balloon or try your luck at escape games. If that's not enough, a day at an adventure park or rock-climbing without safety gear are other options to keep you entertained. Here are five interesting activities if you want to try something new.
Hot Air Balloon Ride
Balloon Tallinn opened last year to offer visitors a view never seen before of the port area and Old Town. The balloon can take up to 30 people and goes 120 metres above ground. The balloon only goes up with the weather is good, so be sure to check their website before you go. You can also rent Segways nearby. Balloon Tallinn is located close to the A Terminal of the cruise ship port.
An Adventure Among the Trees
There are four adventure parks near Tallinn in Pirita, Nõmme, Viimsi, and at the zoo. Try your hand at different trails, and when we say trails, we mean hanging "trails" among the trees. That's not all, the adventure parks also include ziplining, hanging bridges and more to get your adrenaline pumping. The popular PiritaAdventureParkisbytheseawhereyou also get a beautiful view of Tallinn.
Nõmme Adventure Park,   http://www.nommeseikluspark.ee/en/
Pirita Adventure Park,   http://piritaseikluspark.ee
Viimsi Adventure Park,   http://www.viimsiseikluspark.ee
Zoo Adventure Park, Paldiski maantee 145 / Ehitajate tee 150, Tallinn.   http://tallinnzoo.ee
A Walk on the Edge
The TV Tower is a landmark of Tallinn though few have experienced the walk along the edge of the viewing platform at 175 metres high! With safety harnesses, the walk along the tower's edge takes about half an hour and gives a stunning view over the Gulf of Finland and surrounds.
Tallinn TV Tower, Kloostrimetsa tee 58 a, Tallinn.   http://www.teletorn.ee
Climbing, Rain or Shine
The Ronimisministeerium or Ministry of Climbing opened last winter and is a one of a kind climbing gym. You can climb without safety ropes. The floor is padded and safety rules must be followed. You can even go climbing with a group.
Ronimisministeerium, Tartu mnt. 80E, Tallinn.   http://www.ronimisministeerium.ee/en/
Escape or…
Exit Room is a room escape game, which promises excitement for everyone.. During the game you team is given different tasks to help escape the building. Your group has one hour to find their way out of the room otherwise Dracula will awaken and bad things will happen. This game requires teamwork, creativity, and intelligence. Each group is given customised activities.
Claustrophobia Tallinn the other room escape game is located close to Freedom Square. There are two different concepts to get through the game. You also have one hour to exit the room.
Exit Room, Weizenbergi 9 and Tatari 54, Tallinn.   http://www.exitroom.ee/en/
Claustrophobia Tallinn, Pärnu mnt. 28-1, Tallinn.   http://phobia.ee
Click on the address to see the location
TEXT MIKKO VIRTA, PHOTOS ANDREI CHERTKOV
To learn more about this and similar topics