A workout for YOUR FACE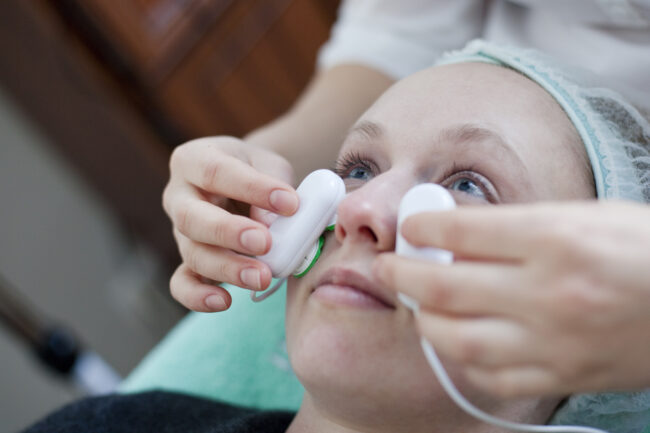 Noole Ilusalong Noole 4-1B, Tallinn Salon face and neck
I visited the Noole Beauty Salon where Raili, the owner introduced me to the procedure. I wasn't sure really what to expect. After describing how the Tua Tre'nd works, my first question was: does it hurt? Not all at. In fact, after you get used to the sensation, it's quite pleasant. Tua Tre'nd has five different programs, targeted at different areas of your face. Each program lasts two minutes. The facial wands have two electrodes each, which can be used simultaneously or individually. The intensity of the current can be regulated, as everyone has different sensitivities.
Tua Tre'nd is a non-invasive portable facelift machine that generates a micro-current at specific frequencies, optimised for different areas of the face and neck. The microcurrents stimulate facial muscles, which in turn contract to give your face a workout. This antiageing treatment will leave your skin feeling firm, sculpted, and radiant by simply using it 15 minutes a day.
The best news, this beauty regiment is easy. You don't have to remove your makeup, and you can use the machine while doing something else. Daily use shows the best long-term results, but change is visible after just one use. Lines will diminish, and your face will have a radiant glow. Perfect for use in the morning for a tired face, or before going out.
At Noole you can enjoy all the services a beauty salon has to offer: hairstyling, cosmetics, massage, manicure, and pedicure. Noole has been open for five years in the quickly growing suburb of Kalamaja in Tallinn. The salon is open by appointment only. If you are in Tallinn and plan on visiting the Seaplane Harbour, the salon is just around the corner. The Tua Tre'nd is for sale at Noole. To promote the Tua Tre'nd facelift machine, Noole is offering one quick session for 5€.
TEXT: KRISTINA LUPP, PHOTO ANDREI CHERTKOV
To learn more about this and similar topics