A vegetarian guide to Tallinn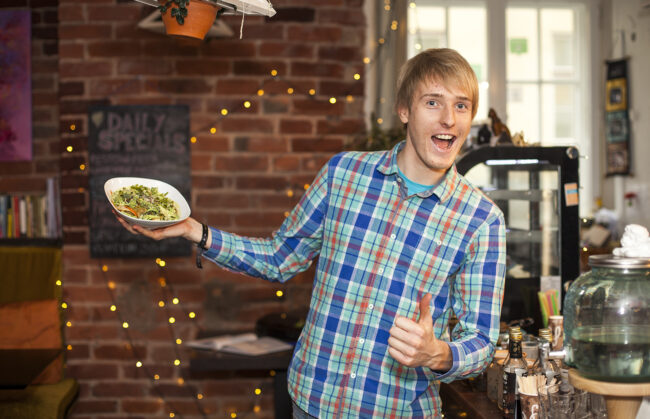 As we approach the first taste of seasonal, fresh local vegetables, let's take a look at some of the places you can enjoy a vegetarian or vegan meal in the city. As always, we asked locals for their input.
V Vegan Restoran
Rataskaevu 12, Tallinn Old Town
www.veganrestoran.ee

Vegan Restoran or V as it's known to locals is one of the most difficult restaurants to get a table at in Tallinn. Why? Because V shows us that not all vegetables need to be boring. With friendly service and a cosy atmosphere to boot, the menu lets you try vegan cuisine in a new light. Tip: The shared appetiser platter is on the small side, but lets you taste a few different things. Our favourite: Spicy tofu with quinoa.
Tokumaru
Estonia pst. 9, Tallinn
tokumaru.ee

It was Daigo Takagi's dream right from the beginning to open a Japanese restaurant in Tallinn, and thanks to the success of Momo (the place to get all things Japanese in town), this dream came true. The restaurant is located on the second floor of the Solaris shopping centre, just above the cinema. The minimalist décor suits the space with a large wall of windows offering a lovely view over the street. Tokumaru offers a vegetarian sushi menu, many of which can be made vegan as well. At lunch, there is an equally large selection of vegetarian lunch specials.
Vegankohvik Inspiratsioon
Lai 44, Tallinn Old Town
veganinspiratsioon.ee

With a menu offering everything from wraps to burgers to creative apps like crunchy celeriac 'nuggets' with a tofu 'egg', you're sure to find something inspiring to try. On top of that they offer a selection of lunch specials throughout the week. But we were told no visit to this vegan café was complete without a piece of one of their cakes!
Green Bakery
Maakri 19/21, Tallinn
www.facebook.com/GreenBakeryTallinn/

Joined with a great little bookstore, this bakery is more of a café, but nevertheless, offers daily lunch specials and an a la carte menu. We really enjoyed the vegan hot dog and the spicy veggie burger.
Gotsu, Kyuho's Kitchen
Pärnu mnt 62a, Tallinn
gotsu.ee

Gotsu is the best place for Korean food in Tallinn, hands down. It's a reasonable distance out of the Old Town, but worth the walk, or short tram ride. Try some of the house made ice tea, kimchi (you can also buy some to take along), and the bibimbap
Burger Box
Kopli 4, Tallinn
www.facebook.com/burgerboxbox/

This tiny takeaway sits right beside Põhjala Brewery's Speakeasy bar. Order some food and head next door. When you order it ready, your name will be called out and it will be passed through the wall. Veggie stuff to order: kimchi fries and their veggie burger.
Kuusk Hernesto
Herne 6, Tallinn
www.facebook.com/kohvikkuushernest/
We come here for the hot dogs, you know, the overflowing-with-toppings kind you get in Chicago. Set up more as a takeaway than a restaurant, Kuusk Hernesto is also a small grocery store for all your veggie needs.
Mamo
Tornimäe 5, Tallinn
www.mamo.ee

Mamo was one of the first places in Tallinn to offer organic foods, vegetarian/vegan options and much more. Set up like a cafeteria you are expected to clear your plates after you eat. Both hot and cold meals are available from the counter, along with freshly baked muffins and cakes.
Bliss
Mustamäe tee 17, Tallinn
www.bli.ee
This vegetarian buffet restaurant has around 100 hot and cold dishes to choose from daily. Though it's a bit of a hike from the city, it's certainly worth the trip for a beautifully presented buffet with great, fresh food. 
Click on the address to see the location.
TEXT KRISTINA LUPP, PHOTOS ANDREI CHERTKOV
To learn more about this and similar topics