A swim with the fishes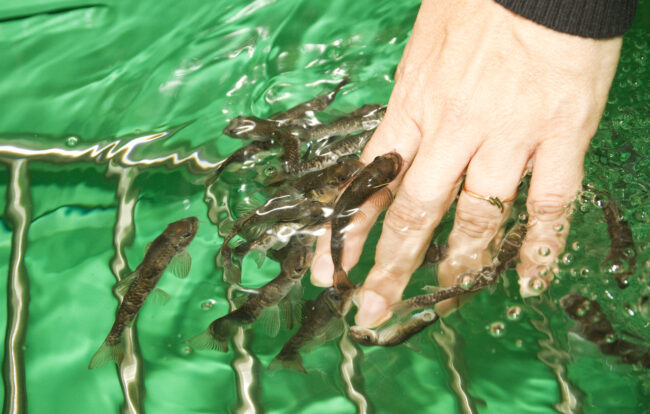 A swim with the fishes
I tried the therapy with two enzymes. I was cautioned at the beginning of this 90 minute treatment that this facial was unlike any I had ever had before. And they weren't lying. The facial starts off like any other, your skin is cleaned and exfoliated but then it's time for the mask. Two separate layers are applied. You are left for 45 minutes to allow the mask dry. At first you won't feel anything, but as the mask starts to harden you will feel your skin tightening. This means it's working. Often it needs a bit of help, so the Danne- therapist used a fan to help speed the drying along. Immediately I could feel my skin tightening even more, and at the same time, the second layer of the mask was exercising my skin. The enzyme therapy works with your skin, as the therapist had explained to me, to leave it feeling firm. As the mask is removed, you can feel your skin letting go. Needless to say, you must go and try it for yourself.
Aloe Spa also offers fish therapy. That's right, this is that thing that you've been hearing about where you sit in a bath and dozens of tiny fish swim around you and nibble on your skin. It feels a little strange at first, but then you just can't enough! This 100€ natural therapy leaves your skin feeling smooth like a baby's, which is particularly desirable on your feet. Aloe Spa offers a Dr. Fisch pedicure (90 minutes) or a Dr. Fisch footbath (30 minutes). The procedure, or rather the fish exfoliate, clean and scrub your skin to leave it feeling better than ever.
The Aloe Spa offers also offers traditional spa treatments, manicures, pedicures, classical massage and sport massage, just to name a few. The atmosphere is tranquil and there is no doubt you will leave feeling relaxed, yet energised.
Location
Aloe Spa Rotermanni 5 / Roseni 10 Rotermanni Atrium 1st floor Tallinn
TEXT: KRISTINA LUPP, PHOTOS: ANDREI CHERTKOV
To learn more about this and similar topics