A salon to get your body and face ready for summer
Text Susanna Poikela
Photos Gaidi Äkke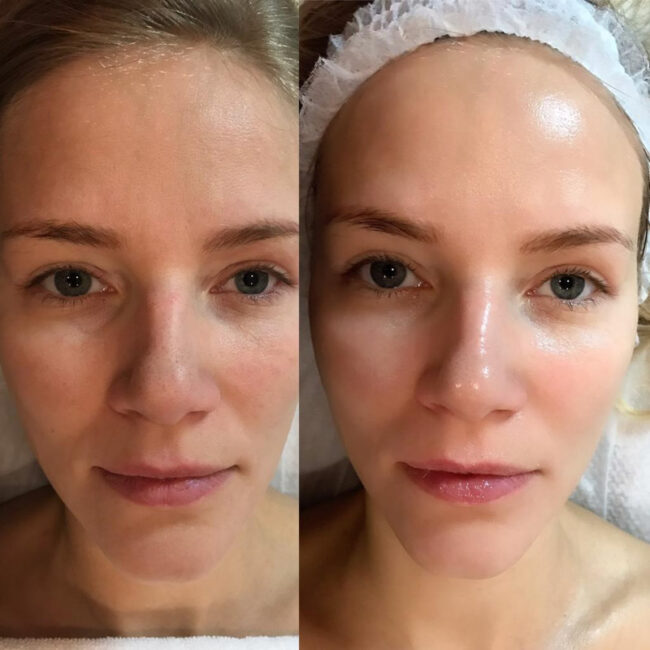 The effects of a facial treatment are visible on the client's skin.
Ella Beauté Salon is a cosy beauty salon founded by three women in 2015, right in the heart of Tallinn, in the Foorum Keskus.
Ella Beauté is accessible directly from the spa's private entrance, from where stairs take you to the comfortably furnished beauty salon on the second floor.
There is no city noise inside. If you want a little break from the hustle and bustle of everyday life, Ella Beauté offers the perfect place for quality and peaceful relaxation.
Ella Beauté is the only beauty salon in Estonia that uses patented Ella Bache products for the face and body. The spa also has other products in use, such as the American Image Skincare, the French Renophase and Payot, and the Italian Natinuel.

One of the owners of Ella Beauté beauty salon, Cidesco beautician Gaidi Äkke enjoys being able to perform treatments that provide results that are both visible and felt by the client's. "I often take pictures before and after to see the effects and develop treatments to be more and more effective," says Gaidi Äkke.
Image Skincare's products are suitable for both young and mature skin. "I often combine Image's products according to the needs of the client's skin and choose the right products so that the results are as long-lasting as possible," Äkke continues.
Currently, the most popular treatments are gentle exfoliating, skin rejuvenating and lifting acid treatments that can be combined with an ultrasound device and Dermapen microneedling. Dermapen tightens and revitalizes the skin and stimulates the skin to produce more collagen, an essential protein to prevent premature ageing.
Pedicure and depilation are also very popular treatments on the eve of summer.
Ella Beauté, Narva mnt 5, Tallinn.
To learn more about this and similar topicsBeauty Salon Body body care depilation Facial Makeup Pedicure Skin