A Reasonably Priced Café/Restaurant Enjoyed By The Rich and Famous
Text Mark Taylor
Photos Andrei Chertkov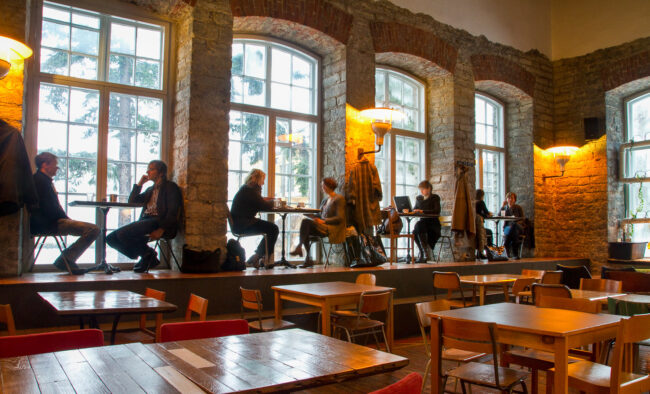 For those that have been to Tallinn once or twice or you have done a bit of research. F-hoone will probably be somewhere you have already been to or on your list of restaurants to check out. And it certainly should be.
Today, the trendy Telliskivi, where F-hoone is located, is one of the coolest and most happening parts of the city. With countless restaurants, bars, boutique shops, and live music venues. But go back just 10 years, and there was just one restaurant sitting in the disused industrial buildings near the Baltijaam train station, and that was F-hoone.
Inside F-hoone (F-building), you will see the old industrial nature of the building with high ceilings, and four distinctive rooms to the restaurant. On the floor, you will even see a giant painted map of all the streets of the Kalamaja district.
F-hoone is open from 10am till Midnight (11pm for food orders) and till 10pm on Sundays (9pm for food orders. This means that F-hoone has a solid and wide range of breakfast/brunch options, a lunch special that costs under 5 euros, as well as a standard menu that starts from 11:30am.
There is a reason why F-hoone is frequented by local and international celebrities (Tom Hiddleston and Sir Micheal Caine even dined there while filming Tenet in Tallinn), and that is the good quality food, service, and atmosphere. F-hoone also has a good range of options for vegan and vegetarian diners. And, dogs are very welcome.
F-hoone can get busy at lunchtime and weekend evenings. If you plan to visit then, we recommend booking a table in advance. To see the menu or book your table, visit their website here.

To start planning your trip…
To learn more about this and similar topicsCafes in Tallinn Estonia Estonian food F-hoone Fhoone restaurant Restuarants in Tallinn Tallinn