A new beer in town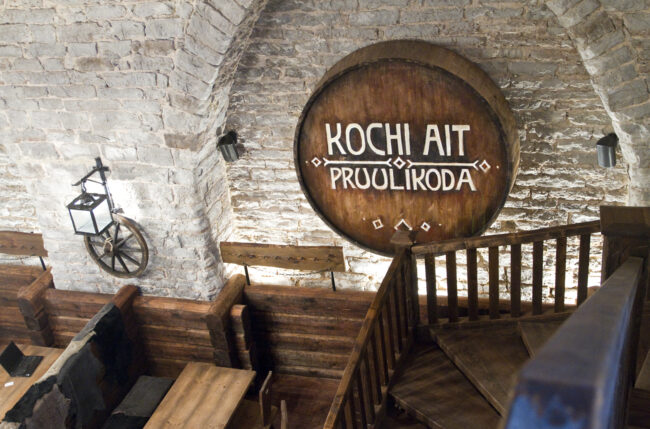 A new beer in town
While Kochi Ait is located outside of the Old Town, it's worth the short walk to the port. The Kochi brewery itself has not yet opened, but the restaurant, contained in the same building is serving a wonderful menu.
The menu consists of Estonian- inspired tavern food, including garlicky malt bread (4.50€), and moose dumplings (3.80€). A cheese platter, made up of a selection of cheeses from Esko Farm is served with cloudberry jam (6.90€), and is also nice with a pint of beer. For main courses, the pork schnitzel was crispy and accompanied by a lemon mousse, seasonal vegetables, and mashed potatoes (8.80€). The braised moose (14.90€) was a special treat. It came served in a clay pot, with a side of jerusalem artichoke and potato purée. The meat was tender and melted in your mouth. If you still happen to have room for dessert (and you might not, the portions are generous), the menu offers a selection of ice creams and sorbets, as well as cakes.
Kochi Ait is part of the Kochi Aidad refurbished storehouse complex near Tallinn's port. These warehouses were built in the late 1800s, and named after their owners. Since then they have been renovated with modern amenities, keeping their old world charm in tact. The brewery will be opening soon, but there is no shortage of local and imported beers to enjoy in the meantime. Listen live music by Estonian bands on Friday and Saturday nights.
Kochi Kohvituba
Right next door to Kochi Ait is the Kochi Kohvituba. The newly renovated warehouse turned café is the perfect place to enjoy a light lunch or a glass of wine. Light meals and snacks include soups, sandwiches, salads, pastries and desserts, all prepared in house.
Kochi Kohvituba, Lootsti 10, Tallinn
Location
Kochi Ait
Lootsi 10, Tallinn
TEXT: KRISTINA LUPP, PHOTOS: ANDREI CHERTKOV
To learn more about this and similar topics