A mix of old and new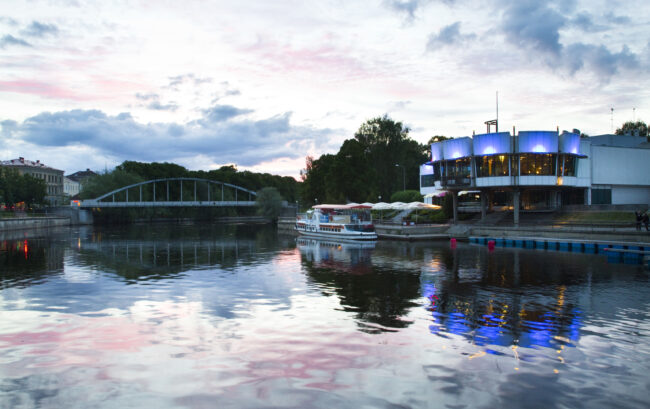 As the second largest city in Estonia, Tartu is not the capital, but a university city which holds itself as a strong centre in the country. The vibrant southern-Estonian hub attracts academics and inspiring young people.
Tartu's main attraction became the Estonian National Museum when it opened its doors in October 2016. Located a few kilometres from the city centre, the museum introduces Estonia, its culture as well as Finno-Ugric history in an interesting way. 
The Ahhaa science centre, located in the city centre, is already well-known to many visitors, though the exhibitions are always changing. For those travelling with children, Ahhaa is a great place to visit for both young and old. Until the end of May 2017, a fascinating filmmaking exhibition is on display.
The Estonian Museum of Agriculture is located in the neighbouring town of Ülenurme where you will some more great exhibitions. Located inside the Ülenurme Manor buildings, the museum offers a glimpse at the manor grounds in their heyday. The 15 museum buildings have different displays about agriculture and its machinery.
Sports fans can visit the Estonian Sports Museum in Tartu. Couch potatoes can admire the awards won by Estonian Olympic medalists. Shoppers can enjoy the new shopping centre Kvartal. In fact, Tartu's largest shopping centres are all located in the same area. Lõunakeskus is currently undergoing renovations, but is still open to shoppers. The new part will be completed in spring, where there will be a cinema and hotel. 
Location
Estonian National Museum (Eesti Rahvusmuuseum), Muueumi 2, Tartu
www.erm.ee

Ahhaa Science Centre (Teaduskeskus Ahhaa), Sadama 1, Tartu.
www.ahhaa.ee/et

Estonian Museum of Agriculture (Eesti Põllumajandusmuuseum), Pargi 4, Ülenurme, Tartu maakond.
epm.kovtp.ee

Estonian Sports Museum (Eesti Spordimuuseum), Rüütli 15, Tartu.
www.spordimuuseum.ee

Kvartal Shopping Centre, Riia 2, Tartu
www.kvartal.com.ee



Aparaaditehas
is Tartu's own creative centre
When you've finished wandering through the shops at Telliskivi in Tallinn, why not head down to Tartu's Aparaaditehas Quarter?
The City of Tartu's marketing manager Helen Kalberg told us that there are different shops, lots of restaurants, as well as a print and paper museum where you can make your own paper and try out a printer that is 150 years old. At the end of August we can look forward to the quarter's own festival. Just like in Tallinn's Telliskivi area, Aparaaditehas is growing and developing quickly.
When you visit Tartu, Aparaaditehas is some distance from the city centre, it's about 3.5 km from the Town Hall Square, but you can get there with public transport.
For those interested in the area's history, you can sign up for guided tours about the quarter's history and buildings. 
Location
Aparaaditehas, Kastani 42, Tartu.
www.aparaaditehas.ee

Choices for accommodation in Tartu grow
Find a good night's sleep for any taste or budget.
The Kvartal shopping centre has brought a long-awaited new spa and hotel to the city. Located at the top floor of the shopping centre, V Spa offers a beautiful view over the city of Tartu. There are many relaxing pools, as well as 11 different saunas to choose from. In addition to the hotel and spa, V Spa Hotel and Conference Centre also has 79 rooms and many places to hold conferences.
Lydia, opened last summer, also offers accommodation overlooking Tartu's Toomemägi Hill.
And if your budget is smaller, then why not try Hektor Design Hostel, which made headlines when the Estonian President stayed there on her tour of the county in autumn. This trendy hostel is located just little bit away from the city centre, next to Aparaaditehas Quarter.
Click on the address to see the location.
TEXT SILJA HURSKAINEN, PHOTOS ANDREI CHERTKOV
To learn more about this and similar topics